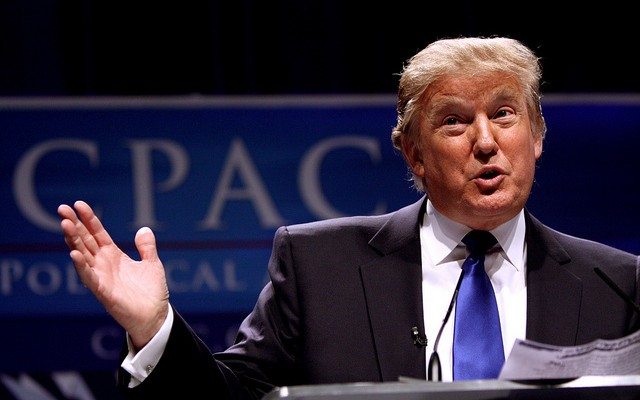 Image Courtesy of [Gage Skidmore via Flickr]
Elections
The Best Reactions to Trump's Idiotic Plan to Block Muslims From Entering U.S.
By
|
First, Donald Trump wanted to ban Mexicans. "Build a wall" he said, and make the Mexican government pay for it. And despite the long list of inherent problems with said plan, a large number of people rejoiced at this supposed fix for America's "immigration problem."
Now, Trump has moved on from just banning nationalities and has opted for religions as well. On Monday, the current leader in the race for the Republican presidential nomination voiced that he would call for a "total and complete shutdown of Muslims entering the United States" until we can "figure out what's going on." That's right folks, all Muslims. 
Watch Trump's Comments Below
These seemingly unconstitutional comments marked a swift change from Trump's usual anti-Muslim rhetoric, quickly distancing the mogul from his GOP counterparts. Now politicians, celebrities, and entire countries are coming out in droves to denounce Trump's statements and even ban him from certain parts of the globe.
People for Banning Trump
Several American mayors have begun voicing the desire to ban Trump from entering their respective cities–despite having no legal power to actually do so. St. Petersburg, Florida's Mayor Rick Kriseman announced the decree on Twitter and Sunnyvale, California's Mayor Jim Griffith quickly followed suit. Kriseman told NBC News on Tuesday that he felt Trump's statement deserved an equally "ridiculous" response.
I am hereby barring Donald Trump from entering St. Petersburg until we fully understand the dangerous threat posed by all Trumps.

— Rick Kriseman (@Kriseman) December 8, 2015
Ya know, I think Mayor Kriseman is on to something here… https://t.co/txdhBwBlFS — Mayor Jim Griffith (@JimGriffith_SV) December 8, 2015
It's not just Americans hoping to ban Trump. As of this afternoon, a petition to prohibit Trump from entering the UK has reached 200,000 signatures and is climbing. The petition first went up on Parliament's website Tuesday, and only needed 100,000 signatures in order to be automatically considered for debate in Parliament.
The GOP Takes a Stand
Many in the Republican Party wasted no time informing the public that Trump's statement was not indicative of the party as whole. Speaker Paul Ryan was praised after holding a press conference where he simply stated "this is not conservatism." Fellow presidential hopefuls Jeb Bush, Marco Rubio, and John Kasich also called the proposal "unhinged," "offensive," and "outrageous" on social media.
Donald Trump is unhinged. His "policy" proposals are not serious.

— Jeb Bush (@JebBush) December 7, 2015
I disagree with Donald Trump's latest proposal. His habit of making offensive and outlandish statements will not bring Americans together. — Marco Rubio (@marcorubio) December 8, 2015
— John Kasich (@JohnKasich) December 7, 2015
Emotional Response
New York Daily News took a more emotionally charged stance on the offensive proposal in the form of a political cartoon comparing Trump to Hitler on Wednesday's cover. The cartoon was modeled after Pastor Martin Niemöller famous poem, "First They Came," and drew similarities to Nazi Germany.
Today's @NYDailyNews cover accompanied by an emotional guest column about @realDonaldTrump https://t.co/Ue4IXx97gr pic.twitter.com/X9xLdSlaYG — New York Daily News (@NYDailyNews) December 9, 2015
The Downright Hilarious
However, J.K. Rowling proved she is the master of all things Twitter yet again, with one single tweet that perfectly captured what everyone else was thinking.
How horrible. Voldemort was nowhere near as bad. https://t.co/hFO0XmOpPH — J.K. Rowling (@jk_rowling) December 8, 2015
Even though politicians, countries, and celebrities are strongly against Trump becoming the next president of the United States, a large portion of America still seems to love him. It appears that the more outrageous the statement, the better Trump polls, and his ability to capture the approval of non-traditional voters has proved he's more than just a sideshow, he's an actual contender. But will people finally say "enough is enough" when Trump starts condemning more nationalities, ethnic groups, and religions?