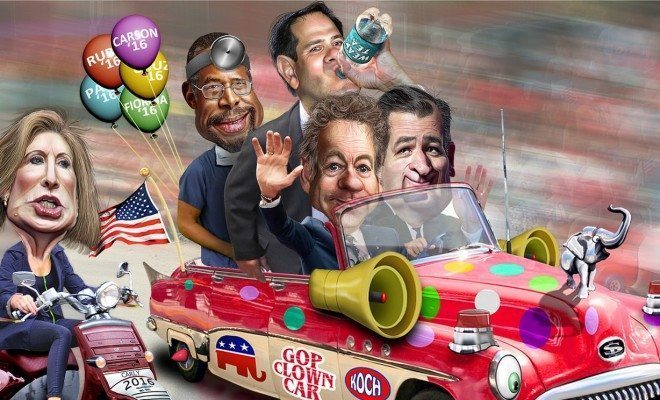 Image courtesy of [DonkeyHotey via Flickr]
Elections
Do Republican Newbies Have Any Chance in the GOP Primaries?
By
|
Political newcomers Dr. Ben Carson and Carly Fiorina have formally announced their campaigns for the 2016 presidential election, adding more diversity to the growing cast of GOP contenders. However their chances of becoming the Republican nominee may be slim to none, seeing as both candidates have never held public office or had military experience. So, in an effort to learn what would possess a famous retired neurosurgeon and a former CEO to run for president, here's a bit of backstory on these conservative POTUS hopefuls.
Dr. Ben Carson
Oddly enough, it was a Lifetime movie starring Cuba Gooding Jr. that first introduced me to Dr. Ben Carson. The inspiring yet cheesy biopic modeled after his autobiography entitled "Gifted Hands" chronicled the former pediatric neurosurgeon's life and the events leading up to the 1987 surgery that made him famous. In that operation, he became the first surgeon to separate a pair of conjoined twins joined at the head.
In 2013 Carson decided to retire as a surgeon and begin inserting himself into the political realm, in what many accurately guessed was the makings of a presidential run. However since then, Carson's political experience can be pretty much be summed up with his bashing of Obamacare and government intrusion in healthcare at the 2013 National Prayer Breakfast.
At his campaign kickoff Monday in his home town of Detroit, Carson chose not to shy away from his inexperience, instead opting to capitalize on it, telling voters he is not a politician, reports the Atlantic. He stated:
I don't want to be a politician because politicians do what is politically expedient. I want to do what's right.
But before Carson educated voters about his conservative platform he decided to start things off with what may be the most unusual campaign launch/mini-concert ever. The strange highlights included his wife Candy playing the "National Anthem" on the violin and an evangelical choir singing a rendition of Eminem's "Lose Yourself," which is now available for download on iTunes.
Despite having zero experience or political clout, Carson claims he's ready to go up against the crowded pack of Republican candidates. If he somehow manages to accomplish that, it will be one long uphill battle for the controversial hopeful, especially since he's been quoted saying Obamacare is the "worst thing since slavery." He also claims homosexuality is a choice, citing people who go to prison identifying as straight and end up having gay sex as proof.
I'm in it!

— Dr. Ben Carson (@RealBenCarson) May 4, 2015
Carly Fiorina
Unlike Carson, Carly Fiorina's presidential campaign announcement strategically went without the theatrics, but she did throw a bit of shade at fellow female campaigner and Democratic frontrunner Hillary Clinton. In her campaign ad's opening statement, Fiorina plays up her inexperience saying, "our founders never intended for us to have a professional political class" as she turns away from an image of Clinton.
Fiorina is a retired business executive who served as the CEO of Hewlett-Packard (HP) before being forced out in 2005 after a botched merger, lackluster revenues, falling stock prices, and innovation struggles. She's also credited with laying off 30,000 HP and Compaq employees during her time as CEO, a fact not forgotten by one site using the domain name carlyfiorina.org, which Fiorina regrettably failed to register. The site called out Fiorina with thousands of frowny faces and the message:
Carly Fiorina failed to register this domain. So I'm using it to tell you how many people she laid off at Hewlett-Packard. That's 30,000 people she laid off. People with families.
But Fiorinia wasn't the only presidential candidate to make that mistake. Ted Cruz also failed to procure the domain name tedcruz.com, which now shows the message "Support President Obama. Immigration Reform Now!" 
Running for president? Buy ALL your domains. Otherwise: http://t.co/cQx6Fw6hGw, http://t.co/9k3UPHQEBT #2016Election pic.twitter.com/yyACnGe94N

— Amina Khan (@aminawrite) May 5, 2015
On a more serious note, like Carson, Fiorina has no political experience and has never held elected office, even though she did make a failed Senate run in 2010. Fiorina did serve as an aide to John McCain during the 2008 presidential elections, but failed miserably when she dissed his running mate Sarah Palin saying she didn't think she could run a major corporation like HP. Then she dug herself in a bigger hole with these follow up comments:
Well, I don't think John McCain could run a major corporation, I don't think Barack Obama could run a major corporation, I don't think Joe Biden could run a major corporation.
Fiorina's biggest challenge, besides overcoming her vast political shortcomings, may be avoiding chronic foot-in-mouth syndrome.
Newcomers to the political arena aren't that surprising–we all remember Herman Caine from 2012. But whether or not Republican newbies Carson or Fiorina will actually have a chance with their outsider statuses will be up to the voters.