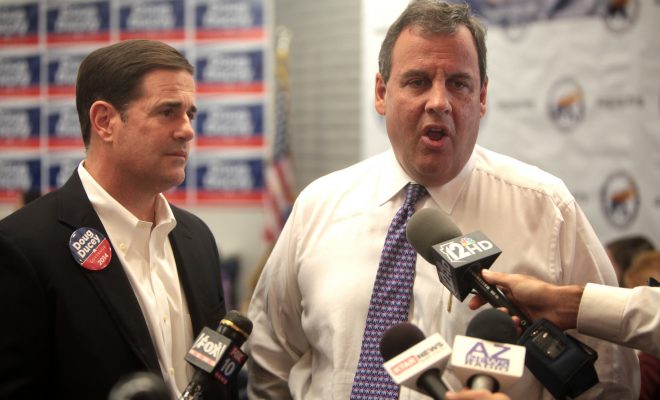 "Doug Ducey & Chris Christie" Courtesy of Gage Skidmore: License (CC BY-SA 2.0)
Politics
With "Beachgate," Chris Christie's Approval Ratings Take a Plunge
By
|
Like most Americans, New Jersey Governor Chris Christie wanted to spend his July 4 weekend enjoying the nice weather and spending time with his family. After he shut down 11 miles of shoreline, many were frustrated that they wouldn't be able to visit spots on the Jersey shoreline. But Christie decided that his job title gave him the privilege to hang out on the beach while barring taxpayers from doing the same.
Despite angrily closing the beaches, and other public services, over a budget disagreement with New Jersey Democrats, Christie spent July 2 calmly sunbathing with family when a photographer caught him.
Andy Mills, a photographer for The Star-Ledger, captured the pictures of Christie and his family members from a helicopter. After getting in a helicopter that morning to snap pictures of the long stretches of empty beach, Mills observed a large group set up on the beach in front of the governor's beachside mansion, he said.
"As we came back up, I'm looking, I'm like, 'That's him,' there's no doubt in my mind that's him," Mills said. "When you make eye contact with someone, both you know and he knows what's going on."
At first, Christie chose to deny anything uncouth happened. "I didn't get any sun," he said.
Then, he chose to defend his actions. He responded that if people wanted to criticize his decision not to cancel his plans, they could run for governor and enjoy the same perks.
After Christie's team was confronted with the evidence that contradicted Christie's blatant lies, his office decided it was the right moment to make a dumb joke.
"He did not get any sun. He had a baseball hat on," was the official statement from Christie's spokesman, Brian Murray.
But people were unamused, especially since Christie's antics began when he became governor in 2010. Residents who had to modify their July 4 plans were upset with their governor, and even Kim Guadagno, New Jersey's lieutenant governor and the Republican nominee vying to replace Christie in November, lashed out.
It's beyond words. If I were gov, sure wouldn't be sitting on beach if taxpayers didn't have access to state beaches https://t.co/VBtBpoUUkv

— Kim Guadagno (@KimGuadagnoNJ) July 3, 2017
One person who was bemused by the incident was author Brad Thor. When the 47-year-old author looked at Mills' pictures he noticed something that very few others would have.
I think I'm the only one in America not mad at #ChrisChristie pic.twitter.com/PXPvjPUepn

— Brad Thor (@BradThor) July 3, 2017
Of course, this isn't the first time Christie has been publicly shamed and mocked on the internet. There was "Bridgegate," when the governor's team intentionally created traffic problems on the George Washington Bridge to send a political message. And then there was the time he took a helicopter to his son's baseball game.
And, most recently, there were the relentless memes after Christie stood behind President Donald Trump during the presidential election.
There's just one question on Chris Christie's mind. #SuperTuesday pic.twitter.com/sSDnCXgxBE

— The Daily Show (@TheDailyShow) March 2, 2016
Chris Christie has Resting Hostage Face. pic.twitter.com/A6JxR99Fiw

— Caitlin S(cientist) (@Paleophile) March 2, 2016
Christie, who is finishing up his final term in office, already has a terrible approval rating, so this incident won't ultimately have much of an impact. After reaching great highs during his reelection in 2012, only 15 percent of New Jerseyans currently view his performance positively, according to the Washington Post–and that was before his trip to the beach. Even his own party has turned on him, with fewer than half of Republicans viewing Christie positively.
Christie is already slated to go down as one of the least liked governors in American history, according to the Washington Post. So, his latest faux pas can't lower his approval rating much more, and frankly it doesn't matter since he's out of office soon regardless. But for Christie, who was once a rising star for the GOP, and a potential presidential candidate, this is just another indication that his political career is going nowhere fast.