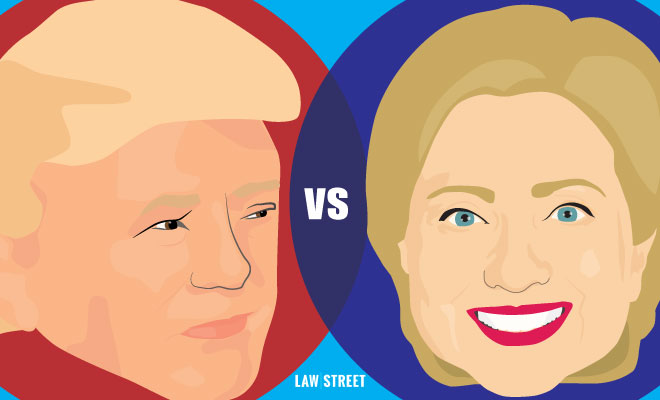 IMAGE COPYRIGHT LAW STREET MEDIA.
Elections
5 Buzzworthy Moments From the 2nd Presidential Debate
By
|
After the first presidential debate broke records as the most watched debate in U.S. history, expectations for Hillary Clinton and Donald Trump's second showdown at Washington University in St. Louis were high. Here are five of the most buzzworthy moments from the second presidential debate:
 You Know They Had to Talk About The Tape
Going into the second debate, we knew Trump was going to be confronted with questions about the 2005  recording where he was heard speaking vulgarly about women with then "Access Hollywood" host Billy Bush. CNN's Anderson Cooper wasted no time bringing it up saying, "You've bragged that you sexually assaulted women,"  before asking the Republican nominee to explain his actions. Trump responded by saying repeatedly that it was just " locker room talk" and deflected the conversation to ISIS, Clinton's emails, and Bill's past discretions.
Clinton responded by saying that the video and Trump's attacks against the Khan family, a Hispanic federal judge, President Obama, and a reporter with a physical disability definitively show that he's not fit to be president. "He owes the president an apology. He owes our country an apology."
That video represents exactly who Donald Trump is.

-Hillary Clinton.#debate

— Shaun King (@ShaunKing) October 10, 2016
More Sniffling
Like the first debate, viewers continued to be distracted by Trump's constant sniffling. While the source of his nasal woes is still unclear, people couldn't help but speculate about the cause.
#Debate: @realDonaldTrump seems a lot more calm, although his sniffling hasn't gone away.

— Melissa Mecija (@10NewsMecija) October 10, 2016
Is Trump going to blame the sniffling on his mic again? #debate

— Anthony De Rosa (@Anthony) October 10, 2016
symptoms of cocaine abuse

1. dry mouth
2. sniffling
3. rambling incoherently #debate

— Hutch Harris (@thethermals) October 10, 2016
Trump Threatens to Put Clinton in Jail
When addressing Clinton, Trump said that if he wins, "I am going to instruct my attorney general to get a special prosecutor to look into your situation," in response to her private email server use while serving as Secretary of State. Clinton responded by saying viewers should fact check his falsehoods, and that it's a good thing Trump isn't in charge of our nation's laws. "Because you'd be in jail," shot back Trump, followed by cheers from the audience.
Excuse me, Moderators
It's not unusual to see presidential candidates interrupt the moderator to get their points across, but this time it was excessive. Trump accused the moderators of teaming up against him and favoriting Clinton.  "It's one-on-three," muttered Trump. In fact, ABC's Martha Raddatz had just asked Clinton about her emails. "We brought up the emails," Cooper responded.
The Candidates Had to Say Something Nice About Each Other!
After attacking each other's policies, personal lives, and scandals for an hour and a half, the candidates were asked to close out the debate by naming one positive thing they respect about one another.
Clinton went first, saying that she admires Trump's children. Trump closed out the debate saying, "She doesn't quit, she doesn't give up. I respect that. I tell it like it is. She is a fighter."
Aww maybe there is hope that they can one day be friends. Or not.