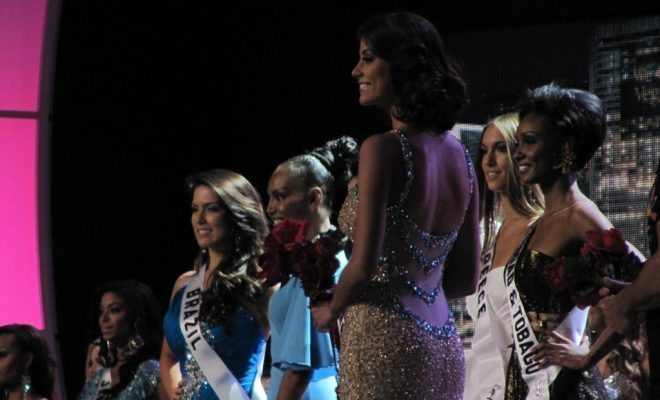 Image Courtesy of [philipnelson.org/Philip Nelson via Flickr]
Elections
Miss Universe 1996 Speaks Out Against Trump
By
|
Alicia Machado, Miss Universe 1996, is speaking up for minorities and speaking out against Donald Trump. Her message? Become an American so you can vote against Trump this November.
In the past month Machado has come forward about Trump's horrendous behavior toward her as Miss Universe. Apparently, Trump made fun of her weight and nationality repeatedly after the pageant, calling her names like "Miss Piggy" and "Miss Housekeeper" in response to her weight gain following the competition. At the time, Machado said it pushed her into bouts of anorexia and bulimia for years as well as sparking her depression. Trump even admits to pushing Machado to lose weight after her reign as Miss Universe, not to mention the dozens of other Miss Universe contestants he reportedly shamed.
In response to Trump's bullying, Machado has applied to become a U.S. citizen to vote against him in favor of the presumptive Democratic nominee, Hillary Clinton, this fall. Clinton tweeted at Machado, congratulating her on attaining citizenship and sharing a video of the former Miss Universe talking about Trump:
Congratulations on becoming a U.S. citizen, Alicia. Enjoy casting that vote. https://t.co/jewmwZrrOA

— Hillary Clinton (@HillaryClinton) May 20, 2016
The video includes footage of Trump forcing Machado to workout with the media watching her. It also shows him shaming the then-19-year-old for her weight:
She weighed 118 pounds or 117 pounds and she went up to 160 or 70 pounds so this is somebody that likes to eat.
The video ends with a clip of Machado laughing as the interviewer asks if she will be voting for Trump this fall.
Machado has finally decided to speak up. She claims to have realized a few weeks ago that the only way to stop Trump from reaching the White House is to gain citizenship and vote against him, as well as to urge members of her community to do the same. Machado sees Trump as the next Hugo Chavez and wants to put a stop to his play for power.
Her commitment to increasing awareness of Trump's Chavez-like ways in the Latino community is backed by many national organizations. Machado met with immigration advocacy groups, including People for the American way and Casa in Action, recently to help their cause. An ad the two groups are releasing aims to play up Trump's anti-immigrant statements to showcase why Latinos should vote for Hillary.
The video explains how a Trump presidency will cause our society to become more intolerant and hateful. It also showcases several of the inappropriate names Trump has used to describe immigrants. Machado stands firmly with the message of this video, saying that "everybody in America needs to open their eyes" and that "we don't need more divisions in this country." Plus, the video is almost entirely in Spanish to appeal to Latino voters.
Machado has taken the hits from Trump with dignity, choosing to see his insults about her heritage (calling her Miss Housekeeper) as honorable because of how hard immigrant housekeepers and nannies work. She claims she is not going to flee the country if he is elected president because, "this is a great country with wonderful politics and amazing benefits, and this imbecile won't be able to change that, we are stronger than Trump." What she wants people to know is that:
This country does not deserve a Chávez. And that's what Trump is…a demagogue, racist, egocentric, misogynist, demeaning man, who lacks cultural and political knowledge. This country does not deserve that.
As a result of her resilience and well known name, Machado has the potential to influence lots of voters. Seems like Trump better watch who he insults, or he could see his campaign quickly lose traction.