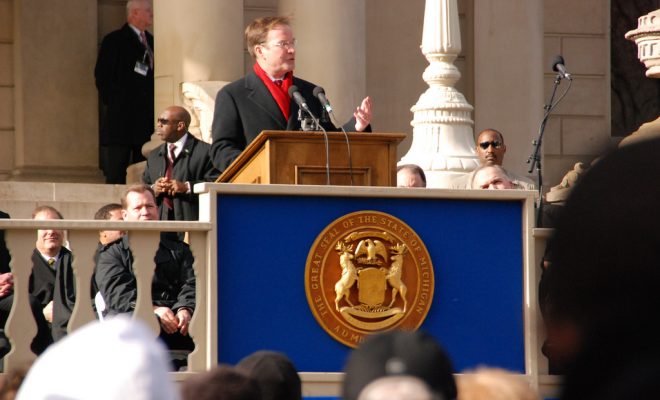 "2011 Michigan Gubernatorial Inauguration 154 N" courtesy of Joe Ross; license: (CC BY-SA 2.0)
Elections
Michigan Attorney General Files Lawsuit to Stop Election Recount
By
|
Michigan Attorney General Bill Schuette filed a lawsuit on Friday to stop the recount of election ballots that Green Party leader Jill Stein has initiated. His argument is that it is expensive and could cost taxpayers millions of dollars. The recount in Michigan has not started yet, and Schuette asked the Michigan Board of Canvassers to reject Stein's request, claiming that she doesn't have any evidence of fraud or errors. Since it is pretty urgent, he also filed an emergency motion with the Michigan Supreme Court to look at the issue immediately. "We have asked the court to end the recount which Stein is pursuing in violation of Michigan laws that protect the integrity of our elections," he said.
It is inexcusable for Stein to put MI votes at risk of paying millions and potentially losing their voice in the Elec College.

— A.G. Bill Schuette (@SchuetteOnDuty) December 2, 2016
The lawsuit says that Stein received only about 50,000 votes of the 4.7 million votes cast in Michigan, and yet she wants a recount to make sure that was the right result. It claims that it will cost taxpayers millions of dollars and criticizes the fact that she waited until three weeks after the election and then requested a recount by hand, which will take a very long time.
But Stein's campaign paid the fee for filing the request in full, almost $1 million, and has also raised more than $6 million in just a few days to cover the recounts in Wisconsin and Pennsylvania. Her argument for doing so has nothing to do with believing she could win the election; rather it is about transparency and fairness. She wrote in an op-ed in USA Today on Thursday:
In the age of computerized voting machines and unprecedented corporate influence in our elections, our electoral system is under increasing threat. How can every citizen's voice be heard if we do not know if every citizen's vote is counted correctly?
Also on Friday, the Board of State Canvassers in Michigan failed to reach an agreement on another objection to the recount effort, this time by Trump's lawyers. Since the vote was 2-2, the requested recount could theoretically start as early as the beginning of next week. But it all depends on what happens with Schuette's lawsuit.
The recounts Americans are calling for will help restore trust in our democracy. They'll also point us to reforms that safeguard that trust.

— Dr. Jill Stein (@DrJillStein) December 2, 2016
Stein bashed the lawsuit, calling it a politically motivated attempt to side with Trump, and said: "Our democracy allows for recounts to ensure the accuracy and security of elections, and today's move by the Attorney General is yet another frivolous attempt to obstruct this legal process."
She pointed out that a miscount doesn't need to have been made on purpose, but as with anything that has to do with machines, glitches do happen. In 2004, 90,000 votes remained uncounted because of calibration problems with the machines in a county in Ohio. Who knows if anything else could be wrong?