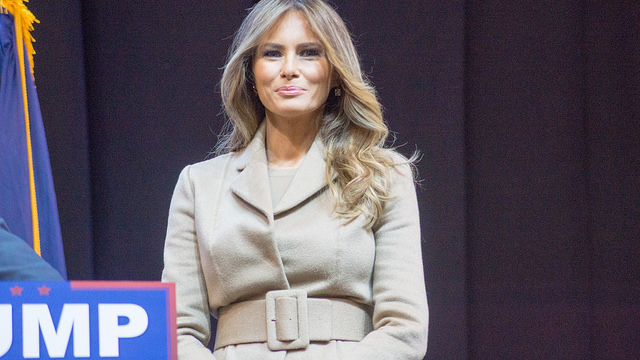 Image Courtesy of [Marc Nozell via Flickr]
Elections
Was Melania Trump an Illegal Immigrant?
By
|
Melania Trump's recent nude photo scandal has raised a lot of questions about her immigration to the U.S., causing people to wonder if the wife of the "Build The Wall" presidential nominee was once an illegal immigrant herself.
The speculation began after the New York Post posted photos of Melania from a nude photoshoot that took place in New York in 1995. According to Politico, this conflicts with Melania's statements that she first came to the U.S. in 1996 and traveled every few months back to her home country of Slovenia to stamp the visa.
"I came here for my career," Melania told Harper's Bazaar in January, "It never crossed my mind to stay here without papers. That is just the person you are. You follow the rules. You follow the law. Every few months you need to fly back to Europe and stamp your visa. After a few visas, I applied for a green card and got it in 2001. After the green card, I applied for citizenship. And it was a long process."
This seemingly small timeline discrepancy was enough for Politico reporters Ben Schreckinger and Gabriel Debendetti to begin poking holes into the former Slovenian's model's story, revealing crucial gaps. Politico writes,
Trump's tale of returning to Europe for periodic visa renewals is inconsistent with her holding an H-1B visa at all times she was living in New York — even if it was the lesser-known H-1B visa specifically designed for models — said multiple immigration attorneys and experts. An H-1B visa can be valid for three years and can be extended up to six years — sometimes longer — and would not require renewals in Europe every few months. If, as she has said, Trump came to New York in 1996 and obtained a green card in 2001, she likely would not have had to return to Europe even once to renew an H-1B.
They concluded that Melania's story was actually more consistent with someone traveling on a B-1 Temporary Business Visitor or B-2 Tourist Visa. If Melania was in fact using a B-1 or B-2 Visa while working in the United States, instead of an H-1B Visa, that would mean that she was working illegally in the country–making her, for all intents and purposes, an illegal immigrant.
Melania responded to the rumors on Twitter, denying the allegations with the following tweet.
— MELANIA TRUMP (@MELANIATRUMP) August 4, 2016
Melania's former agent Paolo Zampolli has since corroborated her story, telling the AP that he did, in fact, secure her an H-1B visa for models. However, many still aren't convinced that she followed the letter of the law when immigrating to the U.S. If these allegations are correct it could potentially be troubling for her husband's campaign, which relies heavily on opposition to illegal immigration.