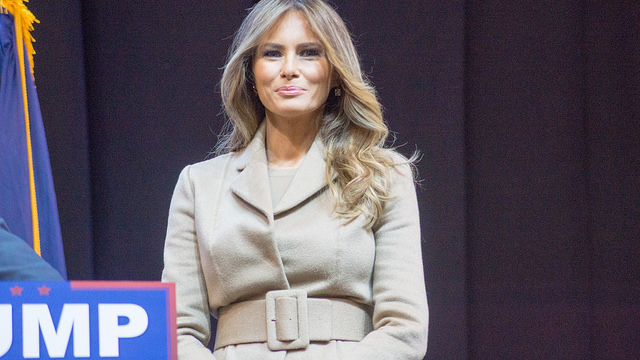 Image Courtesy of [Marc Nozell via Flickr]
Elections
Melania Trump Demands Retraction From People, Threatens to Sue
By
|
Donald isn't the only Trump these days pressing the press for an apology. His wife, the usually silent Melania Trump, is also demanding a retraction and apology from People Magazine after one of its writers alleged the presidential nominee sexually assaulted her.
In an extremely personal first-hand account published Wednesday, People writer Natasha Stoynoff revealed that in 2005–the same year Trump bragged to Billy Bush on an "Access Hollywood" bus that being a celebrity allowed him to grab women "by the p***y"–Donald pushed her up against a wall and forced his tongue down her throat.
Stoynoff, who had covered Donald Trump for years for the magazine, claims that at the time of the assault she had been been interviewing Donald and a "then-very-pregnant" Melania at their home in Mar-o-Largo for a profile on the couple's first wedding anniversary. After the assault, she says she immediately took herself off the beat, but bumped into Melania later that winter.
"That winter, I actually bumped into Melania on Fifth Avenue, in front of Trump Tower as she walked into the building, carrying baby Barron," Stoynoff wrote. "'Natasha, why don't we see you anymore?' [Melania] asked, giving me a hug. I was quiet and smiled, telling her I'd missed her, and I squeezed little Barron's foot. I couldn't discern what she knew. Did she really not guess why I hadn't been around?"
Apparently that's not how Melania remembers it.
At 7:15 PM on Thursday, Melania tweeted a copy of a letter addressed by her lawyer, Charles Harder, to Stoynoff and People editorial director Jess Cagle. Harder, who represented Hulk Hogan in his sex tape lawsuit against Gawker, wrote that Stoynoff's story was "false and completely fictionalized," before singling out a relatively minor anecdote from the story that his client would like retracted.
! @people #NatashaStoynoff pic.twitter.com/zXNm6boveP

— MELANIA TRUMP (@MELANIATRUMP) October 13, 2016

The letter reads:
The true facts are these: Mrs. Trump did not encounter Ms. Stoynoff on the street, nor have any conversation with her. The two are not friends and were never friends or even friendly. At the time in question, Mrs. Trump would not even have recognized Ms. Stoynoff if they had encountered one another on the street.
The letter demands that People "immediately and permanently" remove the anecdote about Melania and Barron from the article and print a prominent retraction and apology. Harden writes that failure to do this in 24 hours will "require Mrs. Trump to consider her legal options."
While Melania never admits that her husband assaulted Stoynoff in the letter, she doesn't deny it either. It's unclear what Melania hopes to accomplish by arguing that she wasn't friends with the woman who is claiming her husband "stuck his tongue" down her throat while she was changing in another room. Instead of helping her husband's hemorrhaging campaign, she may have just twisted the knife further.