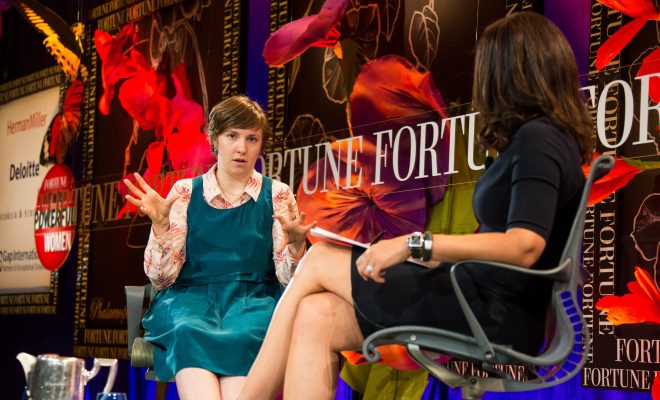 "Fortune Most Powerful Women 2012" courtesy of Fortune Live Media; license: CC BY-ND 2.0
Elections
Lena Dunham Took a Shot at Trump with Bold Halloween Costume
By
|
Actress Lena Dunham hit the mark with her 2016 Halloween Costume, seemingly inspired by quotes from Republican nominee Donald Trump. She dressed as a surprised cat with two plastic hands attached to her, portraying a "grabbed p***y." She posted a picture on her Instagram on Monday evening. "Happy Halloween! With love from a Grabbed P—y," she wrote.
🐱 @LenaDunham sassily takes aim at Donald Trump with her Halloween costume https://t.co/znoJ4dogVF pic.twitter.com/0oUufCP6lL

— Daily Mail Celebrity (@DailyMailCeleb) November 1, 2016
Dunham's inspiration came from the audio recording that was leaked earlier in October when Trump was heard saying, "when you're a star they let you do it. You can do anything. Grab them by the p—y. You can do anything," to TV personality Billy Bush, who has since been sacked by NBC. And ironically the tape might have still been a secret if Bush himself hadn't bragged about having had that conversation with Trump while in Rio covering the Olympics. Someone at NBC then thought it would be funny to dig up the old tape and release it, which Bush probably hadn't counted on.
Dunham is a Clinton supporter and spoke out against Trump in People Magazine after the audiotape was released:
To hear someone in a position of power, in the race for the highest office in the land, to say something that is so distinctly violent, and so distinctly abusive — I think it creates a lot of fear and a lot of sort of pain in the public consciousness that we're going to be dealing with for a long time.
Over the weekend and on Monday, she campaigned for Clinton in North Carolina and has been urging people on Twitter to go vote early.