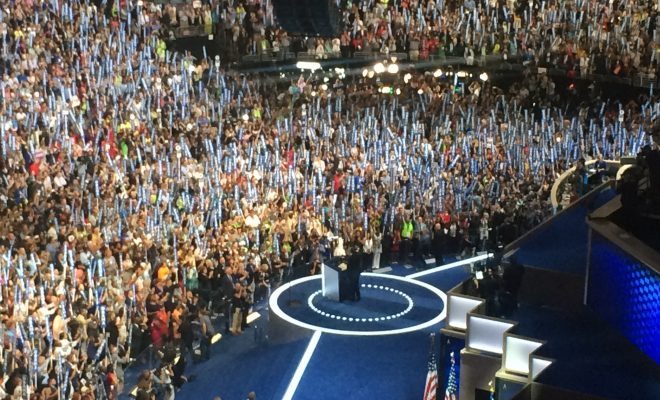 Image Courtesy of Alexis Evans for Law Street Media
Elections
What's up at the DNC?: Law Street's Day 3 Coverage
By
|
This year, Law Street Media is attending both the RNC and DNC conventions, and bringing Law Street readers the inside scoop. We'll be doing day-by-day rundowns and exclusive features. Follow us on Twitter, Facebook, and Snapchat for even more content.
Here's a look at the third day of the festivities, courtesy of Law Street reporters Alexis Evans and Anneliese Mahoney:
Big Tech Presence at DNC
Several tech companies, including Facebook, Twitter, and Microsoft, set up shop inside the Wells Fargo Center for the Democratic National Convention. The arena quickly turned into an analytics lover's paradise, as each company seemingly competed for the award for biggest data tech screen.
Pokémon Go Break
In between speeches I had time to quickly catch a cp 36 Rattata that was hiding in a camera guys lap. Hey, Ash told me I "gotta catch em' all" right?
Bernie Protesters Take Over the Media Tent…Again
For the second night in a row, protesters took over the media tent. They were protesting the fact that Nina Turner, a Sanders' delegate and backer, was allegedly blocked from being one of Sanders' nominators.
A few celebrities even joined the protest, including Danny Glover, Susan Sarandon, and Rosario Dawson.
Gun Violence Theme
There was a strong gun violence theme day three at the convention. Democrats called upon the mother of one of the Pulse nightclub victims in Orlando, the daughter of  the slain Sandy Hook Elementary principal, two of the three survivors from the Mother Emanuel Church shooting in Charleston, SC, and Gabby Giffords to rally support against the gun lobby.
Watch Christine Leinonen, mother of Pulse victim Christopher "Drew" Leinonen, give an emotional plea for gun control below:
Christine Leinonen's son died in the Orlando shooting; she made an emotional plea about gun control at the @DNCinPHLhttps://t.co/OzFmhuMCWR

— Business Insider (@businessinsider) July 28, 2016
Joe Biden Loves the Word Malarkey
Biden made a clear case against Donald Trump last night, calling out the Republican nominee's "malarkey" and "you're fired" catchphrase.
VP Joe Biden calls out Donald Trump's 'malarkey,' says he 'has no clue.' https://t.co/ZlJFcMn4hn #DemConvention https://t.co/CaVzWLXtob

— ABC News (@ABC) July 28, 2016
"This guy doesn't have a clue about the Middle Class. Not a clue. He has no clue about what makes America Great. Actually he has no clue. Period," said Biden inciting chants of "Not a clue! Not a clue!" throughout the stadium.
Tim Kaine Became the DNC's Dad
When Hillary's VP first stepped onto the DNC stage Wednesday night, he was still a relatively unknown senator from Virginia to many Americans. But thanks to some smooth Spanish, hilarious "believe me" Trump impersonations, and corny Dad jokes, Tim Kaine quickly won over the crowd–becoming the DNC's newly appointed dad. Here are some of Twitter's best dad jokes during Kaine's speech:
Tim Kaine absolutely SCOURED Consumer Reports to get the BEST car seat for his kid

— Charlie Warzel (@cwarzel) July 28, 2016
Tim Kaine is your friend's dad who catches you smoking weed at a sleepover and doesn't rat you out but talks to you about brain development

— PJ Vogt (@PJVogt) July 28, 2016
Tim Kaine just wants one word alone with your prom date.

— Jordan Weissmann (@JHWeissmann) July 28, 2016
Tim Kaine really wants you to have a good time at this party but would ask that you just remember to use a coaster!!!!!!

— Kevin O'Keeffe (@kevinpokeeffe) July 28, 2016
Tim Kaine comes off as that super goofy high school teacher who always made terrible jokes and is also the reason you got to go to college.

— Ian Millhiser (@imillhiser) July 28, 2016
Obama and Hillary Hug
Unlike Monday and Tuesday, every seat in the stadium was filled in anticipation for the president's speech Wednesday night–and he sure delivered. Obama warned the American public against electing Trump, declaring "America is already great!" Obama stated,"Our power doesn't come from some self-declared savior promising that he alone can restore order. We don't look to be ruled." 
Obama then gave a strong endorsement of his formal rival saying,
I can say with confidence there has never been a man or a woman–not me, not Bill, nobody–more qualified than Hillary Clinton to serve as President of the United States of America.
At the conclusion of Obama's speech, Hillary surprised the audience by joining him onstage for a warm embrace. Looks like some rivals can truly become friends.
Hillary Clinton joins President Obama on DNC stage after his speech #DemsInPhilly pic.twitter.com/fQOhrPd2aT

— BuzzFeed (@BuzzFeed) July 28, 2016