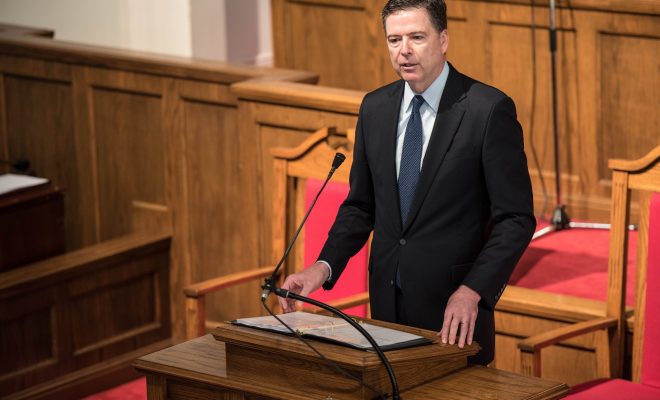 Image Courtesy of Federal Bureau of Investigation; License: public domain
Politics
Reactions to Comey Hearing Illustrate America's Political Divide
By
|
Washington nearly exploded on Thursday morning. Not literally, of course. But when James Comey, the now-ubiquitous former FBI Director, testified in front of the Senate Intelligence Committee, the capital was transfixed.
For an hour or so, it seemed like much of the country was fairly united–CNN dubbed the event "Washington's Superbowl."
But while all eyes were on Comey, all ears were certainly not. Some heard Comey all but indict Trump. Others heard him liberate the president, and take aim at the New York Times and former Attorney General Loretta Lynch.
The hearing centered around the FBI's investigation into the Trump campaign's possible communications with Russia, and its meddling in the election, which Comey was overseeing before he was fired by the president last month.
Comey's firing, coupled with a leaked memo Comey wrote (which he revealed in the hearing he had a hand in leaking) that detailed a questionable conversation with Trump, ignited claims that Trump could be guilty of obstruction of justice.
Among other things, here is what Comey revealed in his testimony to the committee: he firmly believes he was fired because he was leading an investigation into Trump's campaign operatives and Russia; he kept detailed memos of every private conversation he had with Trump because he was afraid the president would later lie about their interactions; Comey believes Trump, in a February 14 conversation, asked him to scrap the FBI's investigation into Michael Flynn, the former head of the NSA.
To everyone's surprise, Trump did not tweet during the hearing. But his personal lawyer, Marc Kasowitz, released a statement soon after the proceedings ended. It reads:
Contrary to numerous false press accounts leading up to today's hearing, Mr. Comey has now finally confirmed publicly what he repeatedly told the President privately: The President was not under investigation as part of any probe into Russian interference.
The statement denied that Trump ever demanded loyalty from Comey, as the former director said he did, or that the president ever, "in form or substance," instructed Comey to drop the Flynn investigation.
Kasowitz also called out "those in government who are actively attempting to undermine this administration with selective and illegal leaks of classified information and privileged communications." He added, "Mr. Comey has now admitted that he is one of these leakers."
During the hearing, Comey said Lynch, the attorney general at the time, requested he publicly refer to the probe into Hillary Clinton's private email server as a "matter," rather than an "investigation." This, he said, along with Lynch's infamous tarmac meeting with Bill Clinton, partially informed his decision to publicly announce Clinton was under investigation.
Some observers pounced on this small nugget, raising questions as to whether or not Lynch would be charged with obstruction of justice.
Will fmr AG Lynch be charged w/ obstruction of justice after Comey revelations of demands she made? Will Dems demand it?

— Gov. Mike Huckabee (@GovMikeHuckabee) June 8, 2017
The RNC and the DNC released two completely irreconcilable statements following the hearing.
The RNC statement read, "Today's testimony proved what we have known all along: President Trump is not under investigation, there's still no evidence of collusion, and he did not hinder the investigation in any way."
In contrast, the DNC statement said Comey's testimony "gave us the clearest and most damning evidence yet that President Trump lied to the American people and is likely under investigation for obstruction of justice–a serious and disturbing charge."
While millions of Americas may have been united in watching Comey's testimony, both statements illustrate the potentially unbridgeable divide in American politics.