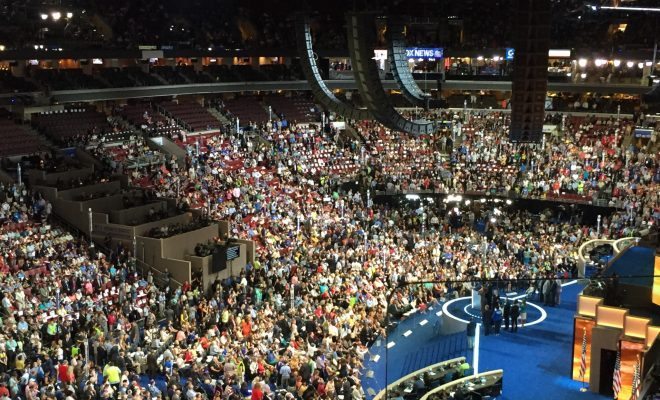 Image courtesy of Alexis Evans for Law Street Media
Elections
What's up at the DNC?: Law Street's Day 2 Coverage
By
|
This year, Law Street Media is attending both the RNC and DNC conventions, and bringing Law Street readers the inside scoop. We'll be doing day-by-day rundowns and exclusive features. Follow us on Twitter, Facebook, and Snapchat for even more content.
Here's a look at the second day of the festivities, courtesy of Law Street reporters Alexis Evans and Anneliese Mahoney:
There was a Gender Neutral Bathroom, Without Any Fuss
Given all the of the hubbub about gender neutral bathrooms in the U.S. this past year, it was a nice "f you" to the GOP to see a gender neutral  bathroom at the DNC.
Of course, some conservative attendees of the DNC were freaked out by the horror. Personally I went in, and wasn't surprised to see no less than five drug-filled orgies.
I'm kidding. It was just a bathroom.
Hillary Clinton Became the Democratic Nominee After a Delightful Roll Call Vote
Have you ever wanted to see a bunch of adults–some of them famous and important politicians–grin and recite fun facts about their states? If your answer is yes, look no further than the roll call vote held today. DNC Secretary Stephanie Rawlings-Blake, who is also the Mayor of Baltimore, asked each state and territory (in alphabetical order) to cast their votes for either Hillary Clinton, or Bernie Sanders.
Some delegates had passionate messages for the group assembled, like DC's Mayor Muriel Bowser, who used the moment to rally for DC statehood.
Mayor @MurielBowser casts 5 votes for @BernieSanders & 39 votes for @HillaryClinton & full support for #DCStatehoodpic.twitter.com/RV6kCQdN9X

— John J. Falcicchio (@falcicchio) July 26, 2016
Others had deeply personal moments, like Hillary Clinton's childhood friend Betsy Ebeling speaking for Illinois:
HRC's childhood best friend Betsy Ebeling doing roll call for Illinois gave me all the feels 😭❤️ #DemConvention https://t.co/fnwC1qEByf

— Sarah Lerner (@SarahLerner) July 26, 2016
And Bernie Sanders' brother, Larry Sanders, spoke for the Democrats abroad. He currently resides in the UK and is affiliated with the Green Party of England and Wales.
An emotional Larry Sanders cast a vote for his brother Bernie at the DNC: https://t.co/QwxtEQFo8lhttps://t.co/PqAP5Bz5dw

— Los Angeles Times (@latimes) July 26, 2016
#DemsInPhilly even if this roll call serves no real purpose other than being endearing, it's certainly changed the mood in here.

— Anneliese Mahoney (@amahoney8672) July 26, 2016
Hillary Officially Became the Nominee
Hillary Clinton made history today. She is the first woman to be nominated for president of the United States by a major party.
History. pic.twitter.com/1ayWTx8SPH

— Hillary Clinton (@HillaryClinton) July 26, 2016
But Not Everyone was Happy
As we moved through the roll call vote, many Sanders supporters decided to show their frustration by staging a walkout and then sitting down in the media tent. For a look at the protest, check out Law Street Media's coverage here.
Mothers of the Movement Moved Arena to Tears
While the Bernie sit-in was still underway inside and outside of the media tent, the crowd inside the arena erupted into chants of "Black lives matter" as the Mothers of the Movement–a collection of black women whose children had been killed in police shootings or by gun violence–took the stage to endorse Hillary Clinton and share stories of their slain children.
This is a pretty profound moment. The "Mothers of the Movement" on stage at the DNC. pic.twitter.com/SrMyPOSGms

— Trymaine Lee (@trymainelee) July 27, 2016
The nine women included: Sybrina Fulton, the mother of Trayvon Martin; Geneva Reed-Veal, the mother of Sandra Bland; Lucy McBath, the mother of Jordan Davis; Gwen Carr, the mother of Eric Garner; Cleopatra Pendleton, the mother of Hadiya; Maria Hamilton, the mother of Dontre; Lezley McSpadden, the mother of Michael Brown; and Wanda Johnson, the mother of Oscar Grant.
Fulton dismissed concerns that the women were being used by the Clinton campaign as political pawns saying:
This isn't about being politically correct. It's about protecting our children. That's why we're here tonight with Hillary Clinton. And that's why, in the memory of our children, we are imploring you — all of you — to vote in this election.Hillary is the one mother who can ensure our movement will succeed.
'This isn't about being politically correct': Watch Trayvon Martin's mother make an emotional plea at the DNChttps://t.co/wTZhdtmclK

— Business Insider (@businessinsider) July 27, 2016
Bill Clinton Shares Really Long Love Story
Former President Bill Clinton officially became the first man to give a first lady speech with a really, really, long retelling of his and Hillary's love story.
"Third time was the charm"- says @billclinton on asking @HillaryClinton to marry him #DNC

— Alexis Evans (@Lex_vans) July 27, 2016

Bill documented what seemed like each year with Hillary including moving Chelsea into college in 1997 and the later events of 1999, but unsurprisingly fast forwarding over 1998's Monica Lewinsky scandal. All in all Bill's speech was clearly an attempt to humanize Hillary with voters, and I think he succeeded.