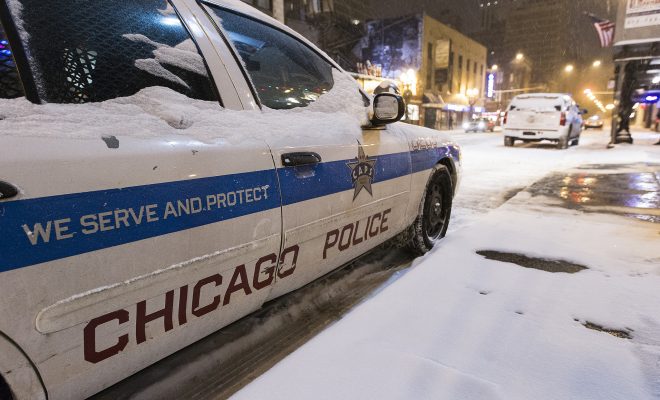 Image Courtesy of Scott L; License: (CC BY-SA 2.0)
Crime
Chicago Officers Indicted on Three Felony Counts in Laquan McDonald Murder
By
|
On Tuesday, three officers involved in the shooting of 17-year-old Laquan McDonald were indicted on three felony counts: conspiracy, official misconduct, and obstruction of justice. None of the officers pulled the trigger that killed McDonald on October 20, 2014 in Chicago's South Side. Instead, they are accused of intentionally shielding the man who is charged with McDonald's murder, Officer Jason Van Dyke.
According to the indictment, Detective David March and patrol officers Joseph Walsh and Thomas Gaffney provided a misleading report after the shooting. Detailing the events that led Van Dyke to shoot and kill McDonald, the officers said the teenager wielded a knife and was aggressively approaching the officers, slashing his blade in their direction.
Three current or former Chicago police officers indicted in Laquan McDonald case https://t.co/fom5AeCmki pic.twitter.com/NKwFTBzbOu

— CNN (@CNN) June 27, 2017
But about a year after the shooting, in November 2015, the Chicago Police Department released dashcam footage that contradicted the officers' report. In the video, McDonald appears to be holding a knife, but is clearly staggering away from the officers. Shots ring out and McDonald falls to the pavement, as Van Dyke continues to fire his weapon. In all, 16 shots were fired. The video, which sparked massive protests across Chicago, ultimately led to the dismissal of Police Superintendent Garry F. McCarthy.
"These defendants lied about what occurred during a police-involved shooting in order to prevent independent criminal investigators from learning the truth," said Patricia Brown Holmes, the special prosecutor who announced the charges on Tuesday.
The indictment said that the three men were aware that a "public airing" of the shooting and the video "would inexorably lead to a thorough criminal investigation by an independent body and likely criminal charges." The charges also said March, a detective with over three decades of experience, "failed to locate, identify, and preserve physical evidence" of the crime, "including video and photographic evidence."
The three officers also allegedly conspired together to avoid interviewing three witnesses that would have conflicted with Van Dyke's account of his encounter with McDonald. Van Dyke was charged with first-degree murder in 2015; he pleaded not guilty, and there is no trial date set at this point. March, Walsh, and Gaffney are scheduled to be arraigned on July 10. If convicted, they could face over ten years in prison and tens of thousands of dollars in fines.
In the Obama Administration's last months in office, officials conducted an investigation into the CPD. The findings were announced just days before President Donald Trump's inauguration. The Justice Department found a pattern of racial discrimination within the CPD, and said the department "engages in a pattern or practice of using force, including deadly force, in violation of the Fourth Amendment of the Constitution."