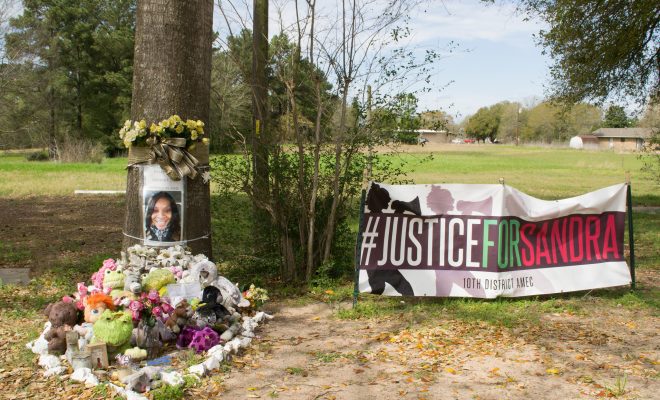 Image courtesy of Patrick Feller; license: (CC BY 2.0)
Crime
Perjury Charge Dropped Against the Officer Who Arrested Sandra Bland
By
|
Prosecutors have dropped the perjury charge against the police officer who arrested Sandra Bland, a black woman who was arrested at a traffic stop and later was found dead in jail.
The officer, Brian Encinia, only faced a single charge of perjury for lying during the investigation into the arrest. He agreed to surrender his officer license and never work in law enforcement again in exchange for the charge to be dropped. But the case will permanently show on his record.
In July 2015, Encinia pulled Bland over on a road near Houston, Texas, as she didn't use her indicator when switching lanes. She said she was trying to get away from the police vehicle, as it had come up very close to her car and wouldn't stop following her. When Bland was pulled over, Encinia asked her to put out her cigarette.
But she refused. In the audio from the dashcam footage you can hear how he violently pulls her out of her vehicle and slams her to the ground. She can be heard complaining about her wrist being bent to the point of breaking, and saying she can no longer hear.
Encinia also threatened to "light [her] up" with his taser gun. He also said "good" after Bland explains she has epilepsy. After taking Bland into custody, Encinia can be heard laughing and debating what he will charge her with–resisting arrest or assault.
It's not enough. These officers need to be held accountable for murdering Black people. Anything less than that is unacceptable.

— Dr. SaVonni Yestanti (@SaVonniYestanti) June 29, 2017
Three days later, jail staff found Bland dead in her cell, hanging with a plastic bag around her neck. The official explanation was that she committed suicide. But her family has doubted that claim, saying that she had just gotten a new job and wouldn't want to die. In July 2016, another officer claimed that officials tried to make him keep quiet about circumstances surrounding Bland's time in jail.
The officer claimed he had seen marks on Bland's forehead, and said that Encinia made up a charge of assaulting a public servant to justify why she would be detained for so long. After the dashcam footage was made public, Encinia was charged with perjury. He reportedly lied in a sworn affidavit in which he wrote that Bland was "combative and uncooperative" at the time of the arrest. But he never faced any assault charges.
No members of the jail staff faced any charges at all, even though they knew Bland had expressed suicidal thoughts before and had a history of depression. A lot of people do not think justice has been served, and Bland's family has criticized the single perjury charge.
"We understand that this is far from a perfect solution, and that many people will feel that this is an inadequate punishment, while others feel that charges should have never been filed," prosecutors in Encinia's case said on Wednesday.
Rep. @GFColeman, author of Sandra Bland Act: "I'm sorry to Ms. Bland's family for how poorly Texas has treated their loved one." #txlege pic.twitter.com/DptVePBI06

— Chuck Lindell (@chucklindell) June 28, 2017
The one good thing that came out of this tragic case was the creation of the Sandra Bland Act, which Texas Governor Greg Abbott signed into law two weeks ago. The new law will require county jails to divert people that suffer from mental health issues or substance abuse to treatment. It will also require law enforcement to investigate any deaths that occur in jail. The law will go into effect on September 1.