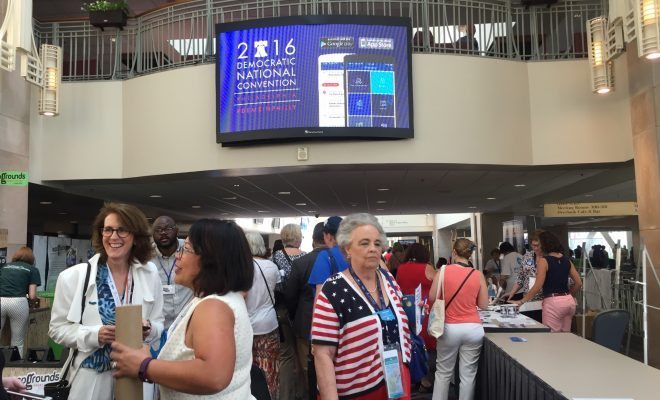 Image Courtesy of Anneliese Mahoney for Law Street Media
Elections
What's up at the DNC?: Law Street's Day 1 Coverage
By
|
This year, Law Street Media is attending both the RNC and DNC conventions, and bringing Law Street readers the inside scoop. We'll be doing day-by-day rundowns and exclusive features. Follow us on Twitter, Facebook, and Snapchat for even more content.
Here's a look at the first day of the festivities, courtesy of Law Street reporters Alexis Evans and Anneliese Mahoney:
A View of the Convention Center
Delegates, supporters, and press waited in lines to attend several caucus and council events throughout the day at the Pennsylvania Convention Center.
Best Supporter Outfits
Convention goers in Philly got decked out in festive campaign apparel to advocate for both Hillary Clinton and Bernie Sanders. One Clinton supporter from Hillary's hometown of Chappaqua, New York had a "Yaaas-worthy" shirt, while these Bernie supporters from Maine rocked crocheted Bernie beer caps. Check back later for more coverage on the best DNC outfits in Philly.
Who Said It: Trump Vs. Internet Troll
NARAL Pro-Choice America enticed people to its booth with this "Who Said It: Trump vs. Internet Troll" misogyny themed poster.
Wet Hot American Summer
So far this has been one wet, hot American summer, and the Democratic National Convention was no exception. The city of Philadelphia kicked off the DNC with an excessive heat warning, as temperatures climbed well above 90 degrees.  The sticky temps made waiting in line for shuttles from the Pennsylvania Convention Center to the Wells Fargo Center close to unbearable. Once the buses finally arrived, sweaty, frustrated delegates, who had been waiting for over an hour due to heavy traffic and Bernie supporters' protests, pushed and shoved their way toward the buses. The disorganized mess lead to some heated exchanges between convention goers and volunteers. Later that evening, day one's weather was capped off by some intense thunderstorms and flash flood warnings, which forced the media tents outside of the convention to evacuate. Philly appears to be rebelling against the democrats' convention.
At #DNCinPHL, there's been 95°+ weather and flash floods because nothing says "hey guys our democracy is fine" like apocalyptic weather.

— Anneliese Mahoney (@amahoney8672) July 25, 2016
What's Next for Bernie Sanders Supporters
Walking around the Democratic National Convention today, one thing was abundantly clear–despite the fact that Hillary Clinton is the presumptive Democratic nominee, delegates that showed up to support Sanders aren't going to take this convention sitting down. Almost everywhere we went there were people decked out in full on Bernie gear, chants erupted at the drop of a hat, and Bernie Sanders' rally–during which he tried to push for party unity–ended with his supporters booing him for that sentiment. And observing all of that today, feeling the palpable tension in the crowd, and seeing hundreds of supporters burst into chants, it's hard not to wonder what could possibly come next.
Here's the scene as Sanders tried to push his fans to support Hillary:
BERNIE: "We have got to defeat Donald Trump, & we have to got to elect Hillary Clinton & Tim Kaine."
CROWD: 😡😡😡😡😡😡😡 pic.twitter.com/uYpi1yex3L

— David Mack (@davidmackau) July 25, 2016
After that response, Sanders also sent out an email to his supporters, urging them to stay calm at the convention.
Here's the email version of the text Bernie Sanders sent to delegates this afternoon (via @kasie) #DemsInPhillypic.twitter.com/zr8ZO8uQeF

— Monica Alba (@albamonica) July 25, 2016
Yet, a handful of Sanders supporters have gotten arrested, and there are still plenty of protests going on at the DNC.
Hashtag Controversy
Twitter had trouble committing to an official DNC hashtag Monday. Hopefully Philly can figure it out before the convention's over.
CAN WE PLEASE AGREE ON ONE HASHTAG FOR THIS THING?!? #DemConvention #DemsInPhilly #DNCinPHL

— Ellie Hall (@ellievhall) July 25, 2016
Michelle Obama's Epic Takedown of Trump–Without Ever Saying his Name
Michelle Obama was one of the primary speakers of the night, and made a compelling argument about why we shouldn't vote for Trump. While plenty of viewers made Melania Trump plagiarism jokes during the first lady's speech, many others commented on the elegance and weight of her rhetoric.
She said:
That is the story of this country, the story that has brought me to this stage tonight, the story of generations of people who felt the lash of bondage, the shame of servitude, the sting of segregation, but who kept on striving and hoping and doing what needed to be done so that today I wake up every morning in a house that was built by slaves. And I watch my daughters, two beautiful, intelligent, black young women playing with their dogs on the White House lawn. And because of Hillary Clinton, my daughters and all our sons and daughters now take for granted that a woman can be president of the United States.
After an evening where many of the speakers were left with some level of discontent–boos abounded during many of the earlier speeches, mostly from voters who aren't #WithHer–Obama's speech was almost universally beloved.
"If they go low we go high" @MichelleObama filled me with hope for people, not just this current outcome What a supreme champion. #DNCinPHL

— Minnie Driver (@driverminnie) July 26, 2016
Why can't Michelle Obama just be the next president? She is seriously the best option

— Camilla Long (@camillalong) July 26, 2016
Incredible speech by an incredible woman. Couldn't be more proud & our country has been blessed to have her as FLOTUS. I love you, Michelle.

— President Obama (@POTUS) July 26, 2016
Bernie Sanders Called for Party Unity
Bernie Sanders called for the party to come together to support Hillary Clinton when he gave the final speech last night. When he took the stage, a lot of people were really freaking out. 
Some Bernie Sanders supporters looking super emotional … crying in the crowd pic.twitter.com/yDhJ7CEbxO

— Oliver Darcy (@oliverdarcy) July 26, 2016
Photos & Memes: Crying Bernie Sanders' Supporters at DNC https://t.co/GRbudCDIJIpic.twitter.com/GAalZG96pZ

— PoliticsS2 (@Politic2k) July 26, 2016
Sanders speech, as expected, was a strong approval of Clinton–he didn't have a "Ted Cruz" moment and refuse to endorse her. But Sanders is now still faced with the rather monumental task of getting his supporters to calm down. Maybe Sarah Silverman can help.
Sarah Silverman: "To the Bernie or bust people — you're being ridiculous" https://t.co/gyUMMophnv #DemsInPhilly https://t.co/NZTj1DHUcM

— CNN (@CNN) July 26, 2016