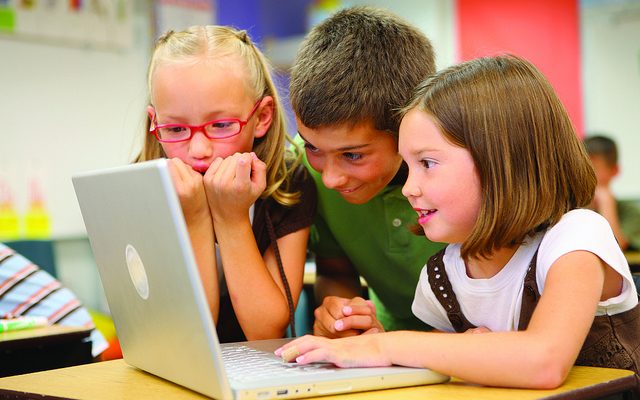 "Children at school" Courtesy of [Lucélia Ribeiro via Flickr]
Elections
If Kids Could Vote, They Would Elect Hillary Clinton
By
|
Adults still have 20 days to decide who to vote for in the 2016 presidential election, but kids, as it turns out, have already cast their ballots. As part of Scholastic's mock presidential election, students selected Democratic nominee Hillary Clinton to be our next president in a landslide decision.
153,000 students across the country voted for the next president. Here are the results! –> https://t.co/ZCw53pqky3 #ScholasticVote pic.twitter.com/PNsPapNo6f

— Scholastic (@Scholastic) October 18, 2016
Clinton won with 52 percent of the students' votes, while her main opponent Republican Donald Trump received 35 percent. The remaining 13 percent belonged to dozens of write-in candidates, with Libertarian Gary Johnson coming in third. Losing the primaries didn't keep Vermont Senator Bernie Sanders from coming in  at a close fourth, followed by Green Party candidate Jill Stein in fifth.
According to Scholastic, "Mom," Kanye West, Harambe the gorilla, Spider-Man, and "bacon" also received votes.
This year about 153,000 students nationwide, from kindergarten through grade 12, voted in the mock election online or by mail-in paper ballot.
If the past is any indicator, then we should take note of their choice. Since 1940, Scholastic's results have accurately predicted the outcome of every presidential race except for two–including all 13 contests since 1964. In 1948, students selected Thomas E. Dewey over President Harry S. Truman. And in 1960, students incorrectly backed Richard M. Nixon over John F. Kennedy.
Clinton is currently leading national polls with 49.7 percent of the votes. She needs just 270 electoral votes to win., and as of today FiveThirtyEight put her at 344.
But I guess we'll have to wait and see what the adults decide on November 8.