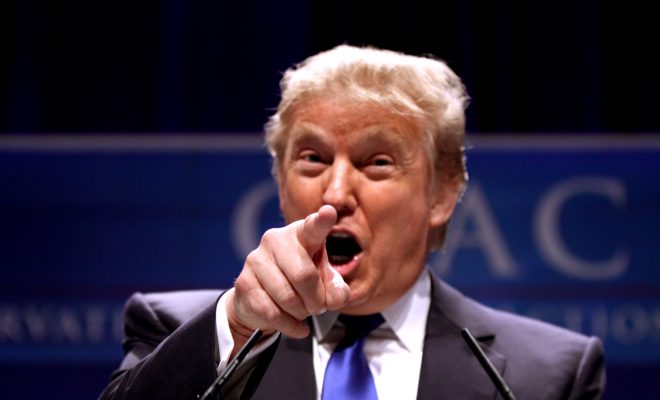 IMAGE COURTESY OF GAGE SKIDMORE; LICENSE:  (CC BY-SA 2.0)
Elections
The Huffington Post Drops Donald Trump Editor's Note
By
|
The Huffington Post discontinued its editor's note labeling Donald Trump a "racist" and "xenophobe" after he was declared the president-elect earlier this morning.
In a note to readers, the online publication opted for a "clean slate" by removing a note that appeared at the end of nearly every article documenting Trump's candidacy, which read:
Editor's note: Donald Trump regularly incites political violence and is a serial liar, rampant xenophobe, racist, misogynist and birther who has repeatedly pledged to ban all Muslims — 1.6 billion members of an entire religion — from entering the U.S.
Ryan Grim, Washington bureau chief for The Huffington Post, explained that the site will continue to hold Trump accountable when necessary, writing:
Where we find fault in how Trump governs, we won't hesitate to call it out. If he encroaches on the norms of our democracy, if he targets minority groups or other vulnerable elements of the population, we won't hesitate to say so loudly and clearly. If he follows his worst instincts and caters to the klatch of white supremacists who endorsed him, we won't flinch from calling him racist. But we have hope that the man we saw on the trail at his worst moments is not the man who will enter the White House.
POLITICO reported that Grim sent a memo to staff members that further explained the decision to remove the note.
"The thinking is that (assuming he wins) that he's now president and we're going to start with a clean slate," Grim wrote. "If he governs in a racist, misogynistic way, we reserve the right to add it back on. This would be giving respect to the office of the presidency which Trump and his backers never did."
According to some Huffington Post sources, the removal of the note was part of the outlet's plan the entire time.
"This note was added to stories about presidential candidate Donald Trump during the election cycle," said Huffington Post spokeswoman Sujata Mitra. "Now that the election is over, we will no longer be adding the note to future stories, as he is no longer a presidential candidate."
The news outlet initially placed its coverage of Trump in its entertainment section instead of its politics section.