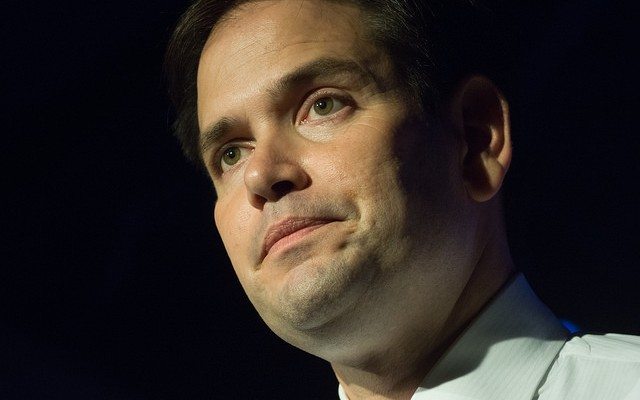 Image Courtesy of [Marc Nozell  via Flickr]
Elections
Florida Newspaper to Marco Rubio: "Do Your Job or Resign it"
By
|
A Florida newspaper is really pissed with Senator Marco Rubio.
In a scorching op-ed published Tuesday evening, the Sun Sentinel's Editorial Board accused Rubio of "ripping off voters" with his constant absences in Congress. Rubio, who is currently seeking the Republican presidential nomination, has missed more votes than any other senator this year. The Sentinel blasted Rubio saying,
Your job is to represent Floridians in the Senate. Either do your job, Sen. Rubio, or resign it.
The op-ed comes in response to Rubio's interview with CNN Sunday, where he justified missing roughly one third of Senate votes this year by saying, "I'm not missing votes because I'm on vacation. I'm running for president so that the votes they take in the Senate are actually meaningful again." Rubio went on to explain,
If there is a vote where my vote is going to make a difference or an issue of major national significance and importance, we'd do everything possible to be there. But I am going to miss votes, I'm running for president…When I miss a vote, it's not because I'm out playing golf. We're out campaigning for the future of America where I believe I can make more of a difference as president than I could as a senator.
Watch Rubio's CNN Interview Below
The Sentinel's editorial board's response:
Sorry, senator, but Floridians sent you to Washington to do a job. We've got serious problems with clogged highways, eroding beaches, flat Social Security checks and people who want to shut down the government.

If you hate your job, senator, follow the honorable lead of House Speaker John Boehner and resign it.
It got harsher when they wrote,
Let us elect someone who wants to be there and earn an honest dollar for an honest day's work. Don't leave us without one of our two representatives in the Senate for the next 15 months or so.
Then they accused him out for essentially defrauded tax payers with his salary saying,
You are paid $174,000 per year to represent us, to fight for us, to solve our problems. Plus you take a $10,000 federal subsidy — declined by some in the Senate — to participate in one of the Obamacare health plans, though you are a big critic of Obamacare.

You are ripping us off, senator.
And they do have a point. According to a tally by Politico, Senators Rand Paul and Bernie Sanders have been able to juggle both their senatorial duties and presidential campaigns, missing only seven and four votes respectively. Rubio on the other hand has shown an unmistakable unwillingness to help govern his state my missing staggering total of 59 votes. But to be fair Senators Ted Cruz and Lindsey Graham aren't too far behind him with absences from votes totaling 57 and 39.
Even though the Florida newspaper is hardly the first to point out Rubio's poor attendance record, its critique probably stung the most. At a time when campaign debate rhetoric relies so heavily on politicians showboating and examples of how candidates were able to "revolutionize" their states with their policies, having constituents publicly rebuke a contender is a huge political blow.