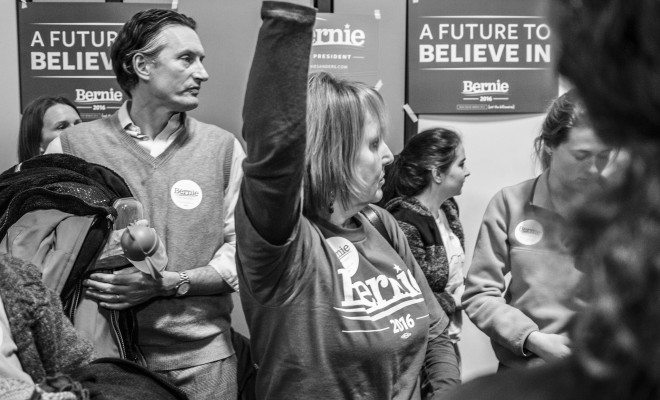 "Precinct 61" courtesy of [Phil Roeder via Flickr]
Elections
Five Takeaways from the Iowa Caucuses
By
|
The votes are in, Ted Cruz and Hillary Clinton are the official winners of the Iowa caucuses, and the 2016 primary season is officially underway. Now that political commentators have some results to talk about the speculation will likely hit unprecedented levels, but what should we learn from Monday night? Let's take a quick look at what happened, why it happened, and what we should take away from Iowa.
1. Trump didn't meet expectations
At the end of the night, Donald Trump was not Iowa's choice for the Republican nominee. In fact, he almost came in third after a surprise showing from Marco Rubio. How big of a blow this will have on the Trump campaign remains to be seen, but given that the phenomenon surrounding him didn't quite meet expectations, we can expect to see some less Trump-centric discussion in the rest of the primaries. Trump still maintains a wide lead in New Hampshire so barring any massive shifts in the next week he will likely win there. But his image as a self-proclaimed "winner" was tainted a little last night.
Unlike Trump, Rubio ended up beating expectations with a third place finish. While most polls showed Rubio coming in third, he closed a lot of distance between the two frontrunners in the brief time leading up to the caucus. If you watched his speech Monday night it almost seemed like he won the whole thing, but for the Rubio campaign, a close third finish is a lot like winning.
2. Clinton and Sanders (basically) tied
It took until Tuesday afternoon to come up with the final tally for the Democratic side, but in the end, Hillary Clinton eked out a victory, though just barely. But for all intents and purposes, this race was more or less a tie. The Democrats have 44 delegates at stake here and they will likely be almost completely split between the candidates. Although to be fair, the Democrats have a very confusing process of allocating Iowa's delegates–Iowan Democrats have their own county, district, and state conventions to determine the delegates to send to the national Democratic Convention where the winner will ultimately be chosen. Republicans, on the other hand, base delegates on the percentage of votes cast for each candidate.
Delegate weirdness aside, the results of caucus voting essentially determine the state's winner. What's more, Iowa's 44 delegates are only an extremely small fraction of the total number of delegates needed to win the actual nomination (Democratic candidates need at least 2,382 of the 4,763 total delegates and Republicans need 1,237 of 2,472). The takeaways from the Iowa caucuses tend to be more momentum or narrative-based than an actual edge in the election. For this reason, you can interpret the results in many ways, but when you consider Iowa's role in delegate allocation Bernie Sanders and Hillary Clinton are basically tied going into New Hampshire next week.
3. Look at the demographics
To fully understand the outcome in Iowa, it is important to look at the demographics of the Iowa electorate, which put simply, does not look all that much like the rest of the country. The population and voting system in Iowa was ideal for Ted Cruz and Bernie Sanders. Caucuses tend to attract fewer voters than primaries and those voters are more likely to hold extreme views. This means that Ted Cruz, who is arguably the most conservative candidate in presidential election history, and Bernie Sanders who bills himself as a democratic socialist, were uniquely benefited by the typical Iowan caucus-goer.
New York Times reporter Nate Cohn, has a nice explanation as to why the tie in Iowa might not be enough for Sanders. Given that Sanders is the underdog in the Democratic race, a tie in Iowa could be spun as a significant achievement, but it is also important to note that Iowa and New Hampshire are considerably more favorable to him than other states might be. In terms of population, Iowa is considerably whiter than the rest of the country. According to the 2014 census, the United States as a whole is about 77 percent white, but over 92 percent of Iowans are white and that's even more so the case in New Hampshire. So far, Hillary Clinton has managed to maintain her support among black voters, an extremely large part of Democratic Party. In some upcoming primary states, like South Carolina, black voters make up a much bigger portion of the electorate, which is part of the reason why Clinton holds a much stronger lead there. 
In Ted Cruz's case, the high number of evangelical Christians in Iowa helped Cruz push his way to the top. According to exit poll data, 64 percent of Republican caucus voters identified as evangelicals. Tred Cruz won 34 percent of those voters' support while Donald Trump came in second with 22 percent. Cruz also won the support of voters who identify as "very conservative" by a very wide margin, earning 44 percent of the votes from that cohort.
4. Don't forget about turnout
It's also important to recognize how few people vote in caucuses. Monday night's caucus broke a record for turnout among Republicans, yet just over 185,000 people voted. Even fewer voted in the Democratic caucus, which had just over 171,000 people vote. To put this in perspective, there are over 2.2 million Iowans who are eligible to vote, and 1.5 million registered voters.
Based on the number of people who are eligible to vote, last night's caucus had a turnout rate of just 15.7 percent. That's important to keep in mind when talking about the Iowa caucuses, particularly when you couple that with the fact that so few delegates are actually up for grabs. While they may be important for momentum or winnowing the field, the Iowa caucuses involve a particularly small number of Americans.
5. We lost two candidates
By the end of the night, two candidates had officially suspended their campaigns: Martin O'Malley and Mike Huckabee. While this might be a good sign for those who are hoping to see the field trimmed, it's probably still too early to call it a trend, particularly in an election cycle when more people have hung around despite abysmal polling numbers.
Also of note, while Ben Carson did not say he was suspending his campaign, he did announce that he is taking a break…but only to change his clothes. Yes, you heard that right, the campaign released a statement saying, "After spending 18 consecutive days on the campaign trail, Dr. Carson needs to go home and get a fresh set of clothes." I'm not sure how much to read into that, but it does come amid a challenging time for Carson's campaign. Unfortunately, we'll just have to wait and see how long it takes for the field to narrow even further.