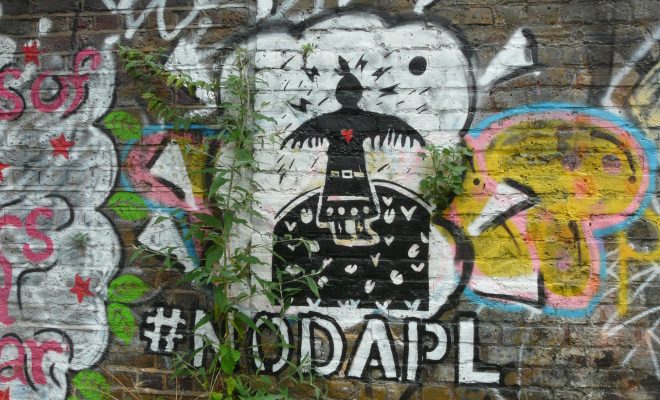 Image courtesy of Loz Pycock; License: (CC BY-SA 2.0)
Energy and Environment
Dakota Access Pipeline Developer Sues Greenpeace, Other Activist Groups
By
|
Energy Transfer Partners, the Dallas-based developer of the heavily criticized Dakota Access Pipeline, has filed a massive $1 billion lawsuit against activist groups including Greenpeace, Earth First!, BankTrack, the Sierra Club, Bold Iowa, and Mississippi Stand. Energy Transfer claims that by protesting, and encouraging others to protest the pipeline, the actions of the groups "violated federal and state racketeering statutes, defamation, and constituted defamation and tortious interference under North Dakota law."
The suit was filed in the U.S. District Court in North Dakota. Energy Transfer is claiming that the groups embarked on a campaign of misinformation about the pipeline, sparking the drawn-out protests, and funded and supported eco-terrorists. A press release about the lawsuit from Energy Transfer claims:
In addition to its misinformation campaign, the Enterprise directly and indirectly funded eco-terrorists on the ground in North Dakota.  These groups formed their own outlaw camp among peaceful protestors gathered near Lake Oahe, and exploited the peaceful activities of these groups to further the Enterprise's corrupt agenda by inducing and directing violent and destructive attacks against law enforcement as well as Plaintiffs' property and personnel.
The Dakota Access pipeline was heavily protested throughout the fall, but ultimately was able to be completed after President Donald Trump signed a presidential memo allowing the massive project. Construction was completed in April 2017. Greenpeace's response to the recently-filed lawsuit actually pointed out a connection between Trump and Energy Transfer–the developers are being represented by Marc Kasowitz's law firm. Kasowitz is one of Trump's personal lawyers. Greenpeace USA General Counsel Tom Wetterer released a statement that included: "It is yet another classic 'Strategic Lawsuit Against Public Participation' (SLAPP), not designed to seek justice, but to silence free speech through expensive, time-consuming litigation. This has now become a pattern of harassment by corporate bullies, with Trump's attorneys leading the way."
Representatives from other groups named in the suit, including the Sierra Club, Bold Iowa, and Mississippi Stand, dispute the allegations and say they still oppose the pipeline.