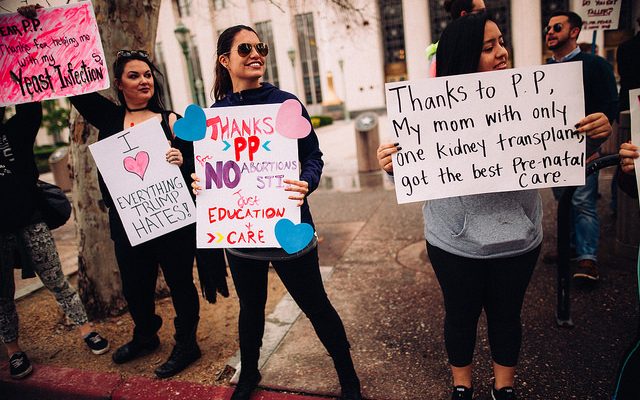 "Planned Parenthood Rally" Courtesy of Molly Adams License: (CC BY 2.0)
Law
Maryland Becomes First State to Pass Law Protecting Planned Parenthood Funding
By
|
Maryland is officially the first state with a law in place to protect funding for Planned Parenthood. The Maryland General Assembly passed a law in April ensuring the organization's continuity; the law went into effect on July 1.
SB 1081 establishes the Family Planning Program in the Department of Health and Mental Hygiene and provides that Maryland will pay for Planned Parenthood's health care services in the state if Congress cuts off funding for the organization. The bill, which was backed by a veto-proof majority in Maryland's House of Delegates and Senate, became law without Maryland Governor Larry Hogan's signature.
Karen J. Nelson, CEO of Planned Parenthood of Maryland, applauded the law's passage in April but also highlighted the continuing fight for health care nationwide.
"As Marylanders, we must remember that a state solution does not change the fact that politicians in Congress are trying to prohibit millions of people from accessing care at Planned Parenthood," Nelson said. "It's incumbent on all of us to keep up the fight for women. No state should have to step in to fulfill the federal government's responsibility to ensure everyone has access to care."
In addition to defunding Planned Parenthood for one year, the U.S. House of Representatives and Senate health care bills include sweeping cuts to Medicaid spending. Supporters of Planned Parenthood joined other protesters on June 27 to specifically protest the Senate's health care bill, including a group of activists dressed as women from "The Handmaid's Tale."
There are nine Planned Parenthood locations in Maryland, and their funding will be protected by the legislation. However, the future for Planned Parenthood is less promising in other states. Take Iowa for example–four of its Planned Parenthood clinics have recently closed. Iowa has approved a state budget that cut off the organization's funding. Some Iowans fear that more closures could be on the horizon if the Senate's health bill passes.
Planned Parenthood President Cecile Richards condemned Iowa's defunding of Planned Parenthood on social media.
Today, a devastating "defunding" law in Iowa is forcing 1/3 of our health centers in the state to close.

— Cecile Richards (@CecileRichards) June 30, 2017
Here's what that means: nearly 15,000 people will lose access to the doctors and nurses they trust. https://t.co/DMQ6NAUzwf pic.twitter.com/dwCDSuZ9Cd

— Cecile Richards (@CecileRichards) June 30, 2017
If other states follow in Iowa's footsteps instead of Maryland's, health care services could be in jeopardy for those states' citizens who rely on Planned Parenthood.