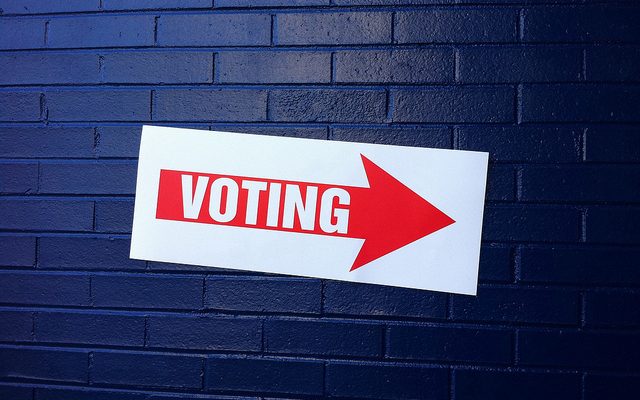 Voting Courtesy of justgrimes : License (CC BY-SA 2.0)
Elections
Don't be Fooled by Fake Twitter Ads: Voting Via Text Isn't a Thing
By
|
Twitter trolls–presumably supporting Donald Trump–have crafted a faux social media campaign aimed at tricking Hillary Clinton supporters into voting via text on November 8.
You cannot vote for the President of the United States via text. I repeat, text voting is really not a thing people–unless when used for some type of talent competition, typically of the singing and dancing variety. In fact, there's only two ways to vote; you can go to your designated polling place in person and vote, or you can mail in an absentee ballot (although you can register to vote via text.)
The ad-like memes, written in both English and Spanish, carried captions like "Avoid the line" and  "Vote from home" next to "text 'Hillary' to 59925." They even contained a small, printed disclaimer at the bottom, which reads:
Must be 18 or older to vote. One vote per person. Must be legal citizen of the United States. Voting by text not available in Guam, Puerto Rico, Alaska, or Hawaii. Paid by Hillary for President 2016.
They have since been deleted, but here a few tweets containing screengrabs of the images.
This is a SCAM! You must go to the POLLS to VOTE! YOU CANNOT TEXT, EMAIL, or PHONE in your VOTE! pic.twitter.com/fYdRx8I3ZU

— Kathy (@PayDownTheDebt) November 4, 2016
No, you cannot vote for Hillary Clinton via text message https://t.co/WPwikLjjTi pic.twitter.com/3Nb10W9V2c

— Fortune (@FortuneMagazine) November 3, 2016
The use of minority models and Spanish captioning likely means the ads were aimed at black and Latino voters, intended to suppress Democratic turnout by tricking would-be voters into thinking they already voted.
Twitter user @mcness saw the images and immediately attempted to flag the misleading material; however, he claims that Twitter Support told him the tweets did not violate Twitter Rules. After sharing his frustrations online, Twitter CEO Jack Dorsey tweeted Wednesday that the issue had been fixed.
@mcnees @Support not sure how this got past us. Fixed (and thanks for reporting)

— 🚶🏽jack (@jack) November 2, 2016

Many of the accounts that initially tweeted out the images have since been deleted.
Fortune reports that even though they may be misleading, these ads are not necessarily illegal. UC Irvine law professor Rick Hasen explained in an email to Fortune:
There is no law against misinformation or lying at polls. It is possible to argue that providing some misinformation to voters could be seen as voter intimidation and therefore a violation of the Voting Rights Act and other federal (and state) laws. But I don't think that would apply to these ads.
He also stated that President Obama had proposed a law against such misinformation when he was a senator.
According to New York Magazine, if you text "Hillary" to the number listed on the ads, you will receive a response stating the ad is not affiliated with the Clinton campaign.
Now that we've cleared that up, don't forget to vote on November 8. It may not be as convenient as texting from your couch at home, but it is a vital part of our nation's democracy.
If you're upset about attempts to trick voters, please
1) Vote
2) Help others vote
Don't let friends/family sit this out. Every vote counts.

— Robert McNees (@mcnees) November 4, 2016