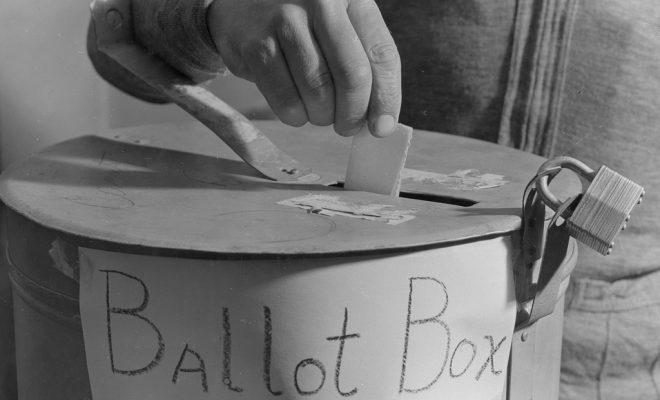 Image Courtesy of U.S. Department of Agriculture's photostream; License: (CC BY 2.0)
Elections
Post-Election Review Finds Scant Evidence of Voter Fraud
By
|
A post-election investigation by The New York Times found that among 49 states (Kentucky would not respond to any requests) and D.C., voter fraud during the 2016 election was virtually nonexistent. Election officials in 26 states and D.C. found "no credible allegations of fraudulent voting," according to the Times report, while only a handful of states reported fraud claims that required further review.
Claims of voter fraud are hardly new. But from governor races to the presidential election, and from governors who were unseated to the president-elect himself, 2016 has breathed new life into the debate. Tennessee and Georgia reported the most widespread instances of claims that justified further review, at 40 and 25 claims respectively. But a lack of evidence of widespread, election-altering voter fraud should quell most concerns.
Republicans–including President-elect Donald Trump–have largely been behind the push to limit voter fraud by tightening voter ID laws, many of which have been struck down by federal courts. Still, others have questioned the legitimacy of the 2016 presidential race as well, most notably Green Party candidate Jill Stein. Stein challenged the results in three states that were key to Trump's victory: Pennsylvania, Michigan, and Wisconsin, which was the only state of the three to move forward with Stein's recount request. The recount in Wisconsin yielded an even greater margin of victory for Trump.
But the crusade against voter fraud has mainly come from Republicans. On November 27, in response to doubts about the validity and necessity of the Electoral College, and the insistence that he lost the popular vote by over 2.8 million votes, Trump tweeted:
In addition to winning the Electoral College in a landslide, I won the popular vote if you deduct the millions of people who voted illegally

— Donald J. Trump (@realDonaldTrump) November 27, 2016
Two of Trump's closest surrogates, Speaker of the House Paul Ryan, and Trump's Chief of Staff Reince Priebus, have deflected the president-elect's claims that "millions of people" voted illegally. In an interview with "60 Minutes" a few weeks ago, Ryan, when pressed about Trump's comments, said: "I don't know. I'm not really focused on these things." And Priebus, when asked the same question in a recent interview on CBS's "Face the Nation," said: "I don't know that it's not true…It's possible."
Distrust for the legitimacy of some votes didn't just come from the top of the GOP ticket. In North Carolina, Governor Pat McCrory, the incumbent Republican who lost to Democrat Roy Cooper, ordered a weeks-long review into statewide voter fraud. McCrory conceded defeat on December 6, after the Republican-led state and county boards found little evidence of fraud. Out of nearly 4.7 million ballots, 25 were illicitly casted by felons, though that does not mean they knew that doing so was illegal. Some of the "dead voters," (deceased people who, some Republicans claim, are used by the living to cast ballots) had cast their votes early, and then actually did pass away by Election Day.