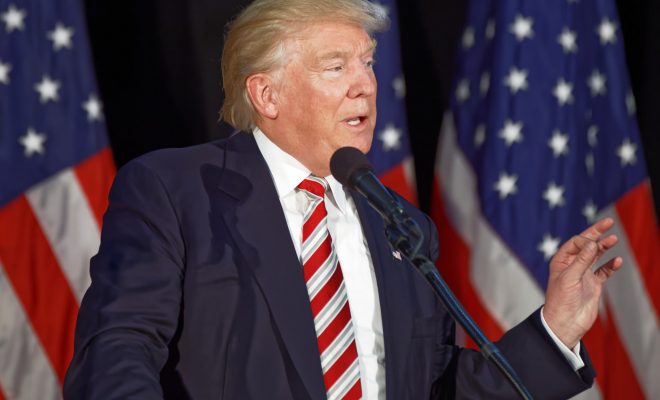 Image Courtesy of Michael Vadon; License: (CC BY 2.0)
Politics
Trump's Quest to Prove His Claim About Voter Fraud: What You Need to Know
By
|
Last week, Kris Kobach, appointed by President Donald Trump to investigate voter fraud, sent a letter to all 50 states, requesting their voter files. Voters' names, their party affiliation, military status, and other personal information, Kobach wrote, should be handed over to the Election Integrity Commission. In addition, the last four digits of voters' Social Security numbers should be provided to the federal government, the letter said.
Within a few days, a majority of states rejected Kobach's request; many were aghast at his demands. And on Friday, Kobach himself said he could not comply with parts of his own request. Here is what you need to know about the whole situation:
Trump Decries Voter Fraud
Kobach's effort has its roots in Trump's repeated claims about voter fraud. Trump has said three to five million people illegally voted in last fall's election, thus handing the popular vote to his opponent, Hillary Clinton. After the election, in which Trump won the electoral college but lost the popular vote, he tweeted, "in addition to winning the Electoral College in a landslide, I won the popular vote if you deduct the millions of people who voted illegally."
He later pegged the number of illegal votes, in an unsubstantiated and so far unfounded claim, at three to five million. Kobach, during an interview in January, said, "If you take the whole country," illegal votes were "probably in excess of a million, if you take the entire country for sure."
In May, Trump created the Election Integrity Commission to investigate voter fraud during the 2016 election, appointing Kobach, Kansas' secretary of state, as the commission's vice chairman. The commission is chaired by Vice President Mike Pence.
Kobach's Letter
Last Wednesday, Kobach sent a letter to all 50 secretaries of states–even the ones who are not in charge of their state's voter information. The letter specifically requested:
Publicly-available voter roll data including, if publicly available under the laws of your state, the full first and last names of all registrants, middle names or initials if available, addresses, dates of birth, political party (if recorded in your state), last four digits of social security number if available, [and] voter history from 2006 onward.
Kobach said the information would be made available to the public, and said states had until July 14 to fork over the information to the commission.
"Yet Another Boondoggle"
As of Monday afternoon, at least 27 states have rebuffed all or parts of Kobach's request–including Kansas, Kobach's own state. Governor Terry McAuliffe of Virginia reacted swiftly to the letter, saying he has "no intention of honoring [Kobach's] request." He added in a statement: "Virginia conducts fair, honest, and democratic elections, and there is no evidence of significant voter fraud in Virginia."
Alex Padilla, California's secretary of state, said he "will not provide sensitive voter information to a commission that has already inaccurately passed judgment that millions of Californians voted illegally." Some states have said they would provide Kobach with "publicly available information" like voter rolls, while questioning the commission's true intentions.
Voting rights advocates have rejected Kobach's letter as a "propaganda tool" to justify voter suppression ordinances in the future. Dale Ho, director of the ACLU's Voting Rights Project, said:
I have every reason to think that given the shoddy work that Mr. Kobach has done in this area in the past that this is going to be yet another boondoggle and a propaganda tool that tries to inflate the problem of double registration beyond what it actually is.
And on Friday, Kobach himself suggested he could not comply with his own request. In an interview with the Kansas City Star, Kobach said he would not provide the commission with Kansas voters' Social Security information.
"In Kansas, the Social Security number is not publicly available," he said. "Every state receives the same letter, but we're not asking for it if it's not publicly available."
Meanwhile, over the weekend, Trump expressed his discontent with the states refusing to comply.
Numerous states are refusing to give information to the very distinguished VOTER FRAUD PANEL. What are they trying to hide?

— Donald J. Trump (@realDonaldTrump) July 1, 2017