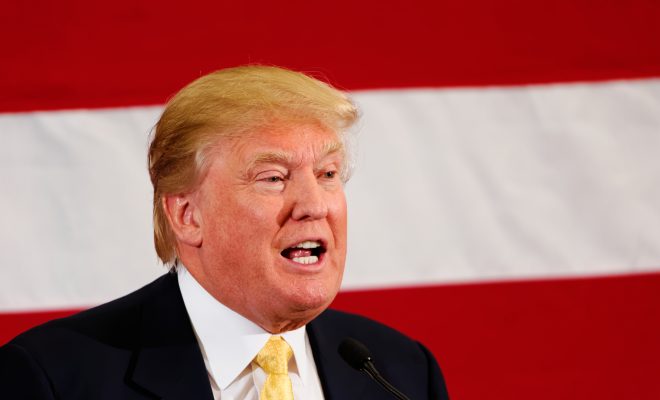 Image Courtesy of Michael Vadon : License (CC BY-SA 2.0) 
Elections
Donald Trump's Child Rape Accuser Cancels Public Appearance
By
|
A woman who filed a lawsuit against Donald Trump for allegedly raping her as a child, pulled out of a press conference where she was expected to reveal her identity moments before it began.
The accuser, known by the pseudonym Jane Doe, was expected to reveal her identity before media outlets in her lawyer's Los Angeles office on Wednesday.
BREAKING: woman who sued Donald Trump for child rape breaks her silence today. https://t.co/ecbzZ6jxSU pic.twitter.com/kdCRsG7wIm

— Lisa Bloom (@LisaBloom) November 2, 2016
Her attorney, Lisa Bloom, cancelled the event due to fears surrounding her client's safety–citing death threats.
"Jane Doe has received numerous threats today as have all the Trump accusers that I have represented. She has decided she is too afraid to show her face," said Bloom. "She has been here all day, ready to do it, but unfortunately she is in terrible fear. We're going to have to reschedule. I apologize to all of you who came. I have nothing further."
The federal lawsuit alleged Trump raped Doe in 1994 when she was 13 years old, and sexually assaulted her on other occasions while attending sex parties at the New York City mansion of billionaire and convicted pedophile Jeffrey Epstein.
The woman making the claims is referred to as "Jane Doe" in the most recent court complaints filed in New York, but as "Katie Johnson" in a similar suit filed in California earlier this year. Doe filed a lawsuit in April, without legal representation, which was dismissed for technical filing errors. Trump responded to the allegations and claimed the lawsuit was an attempt to bring him down.
"The allegations are not only categorically false, but disgusting at the highest level and clearly framed to solicit media attention or, perhaps, are simply politically motivated," Trump told RadarOnline. "There is absolutely no merit to these allegations. Period."
There have, of course, been questions about the validity of the lawsuits from some. According to Jon Swaine of The Guardian, the lawsuits seem to be orchestrated by Norm Lubow, a former producer on the "The Jerry Springer Show" who is "an eccentric anti-Trump campaigner" with a record of making outlandish claims about celebrities.
A civil lawsuit is scheduled for an initial status conference in a New York district court on December 16.