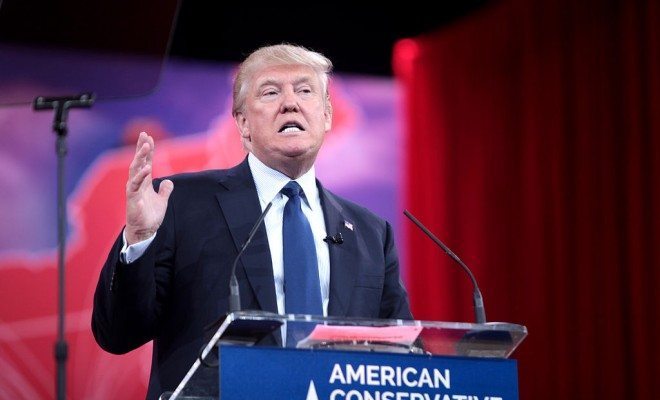 Image courtesy of [Gage Skidmore via Wikimedia]
Elections
Donald Trump Sued by Protesters Who Scuffled With His Security Team
By
|
It has now become virtually physically impossible to get through the day without hearing a news story about Donald Trump making someone mad. But the latest story to come out of The Donald's terrifyingly successful attempt at a 2016 run might be a bit more threatening than just angry onlookers–it's a lawsuit. A group of protesters are suing Trump, after they claim they were attacked by his security team.
The five protesters who are plaintiffs in the recently-filed case are, in their own words, "human rights activists of Mexican origin." The protesters were there to speak out against Trump's much-maligned rhetoric about immigrants. They were holding up signs outside of an event last Thursday in New York at Trump Tower in which they riffed off Trump's slogan "Make America Great Again." Instead, they held signs that read "Make America Racist Again." Trump's director of security and long-time guard, Keith Schiller, grabbed the sign from a protester. That protester, named Efrain Galicia, ran after Schiller to try and grab the sign back, and started pulling at it. It was at that point that Schiller turned around and hit Galicia. Here's a video of the altercation:
It's in this light that Galicia and his fellow protesters are suing, alleging violence, theft of property, and interference with political speech. They're also seeking an injunction that would keep members of Trump's security team from interfering with protesters at various events. Overall, they're framing their case at least in part from a public free speech angle.
Galicia's lawyer Benjamin Dictor told New York Daily News:
The video in a sense speaks for itself. The actions were just exceedingly aggressive especially given the fact that demonstrators were on a public sidewalk speaking out about issues of public concern.
Dictor also stated:
There's obviously a larger issue at play here, which is individuals from the community speaking out in public about issues of public concern in a public space. In the most public of spaces on the most public of issues.
Named in the lawsuit are Schiller, the rest of Trump's organization, and Trump himself. They aren't going down without a fight though–in the immediate aftermath of the incident, a spokesman from Trump's campaign claimed that the protesters were causing disturbances on the sidewalk and had committed violence against Trump's security team themselves. There has been talk that Trump's team might actually sue the protesters as well.
This scuffle and resulting lawsuit really don't come as a surprise after many of Trump's recent comments have sparked calls for protests. As this election cycle continues to heat up, this may not be the only altercation we see between Trump's security and protesters that we see.