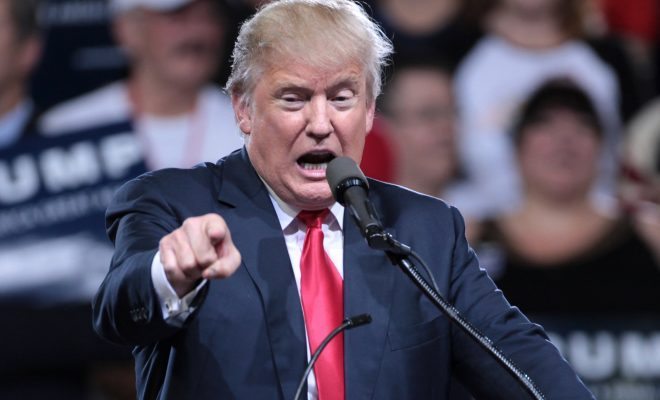 "Donald Trump" courtesy of [Gage Skidmore via Flickr]
Elections
Trump Calls on Russia to Find Clinton's Deleted Emails
By
|
As attention turns to the Democratic Party while it hosts its convention this week, Donald Trump made a move to take back some of the spotlight. In a bizarre press conference, often featuring Trump's stream of consciousness speaking style, he suggested that Russia should seek out Hillary Clinton's deleted emails–in effect, asking a foreign nation to spy on the email correspondence of a U.S. secretary of state.
"Russia, if you're listening, I hope you're able to find the 30,000 emails that are missing. I think you will probably be rewarded mightily by our press," Trump said–referring to an estimated 30,000 emails that were deleted from Clinton's email server before it was turned over to the FBI.
Here's the clip from C-SPAN for some additional context:
Donald Trump: "Russia, if you're listening, I hope you're able to find the 30,000 emails that are missing."https://t.co/XHc9hh4gBt

— CSPAN (@cspan) July 27, 2016
His comments come at a striking time: a recent hack of the Democratic Party's servers led to a massive release of internal emails sent by party leaders. The emails were published by WikiLeaks and although the source of the hack remains unknown, cyber security experts and American intelligence agencies strongly suspect that Russians were involved.
However, at his press conference on Wednesday, Trump noted that no one knows for sure who was behind the attack and argued that Russia probably wasn't involved. He also took the opportunity to call the current Democratic leadership weak, noting that if Russias were involved, the hack shows that they don't respect the U.S. government.
Interestingly, shortly after Trump made his comments at the press conference, his running mate–Indiana Governor Mike Pence–issued a statement saying, "If it is Russia and they are interfering in our elections, I can assure you both parties and the United States government will ensure there are serious consequences." Speaker of the House Paul Ryan issued a similar statement denouncing any potential Russian involvement. "Russia is a global menace led by a devious thug. Putin should stay out of this election," a spokesperson for Paul Ryan said.
The leak has been particularly embarrassing for the Democratic Party. The emails provided evidence that, among other things, the party failed to live up to its neutrality claims in the primary race between Hillary Clinton and Bernie Sanders. Shortly after the documents were released, DNC Chairwoman Debbie Wasserman Shultz resigned and the rift between the Democratic Party and many Bernie Sanders supporters deepened.
Given the timing of the DNC email leak and its potential ties to the Russian government, many are deeply concerned that it reflects an effort by a foreign government to influence the outcome of a major American election. The decision to release the emails shortly before the Democratic Convention in Philadelphia appears to have been made to have the largest political effect. Indeed, the scandal may have added to many voters dissatisfaction with the Democratic Party and its handling of the primary campaign, which recently culminated in protests at the party's convention early this week.
Meanwhile, Trump appears to have doubled down on his call for Russia to find Clinton's deleted emails. Shortly after his speech, Trump sent out the following Tweet:
If Russia or any other country or person has Hillary Clinton's 33,000 illegally deleted emails, perhaps they should share them with the FBI!

— Donald J. Trump (@realDonaldTrump) July 27, 2016
The Clinton campaign recently started suggesting that Trump's relationship with Russia may be cause for concern. "He certainly has a bromance with Mr. Putin," Clinton Campaign Chairman John Podesta said of Trump on Tuesday. But when asked, Trump quickly said he had no business dealings in Russia. And Paul Manafort, his campaign manager, recently labeled the implication that Trump has ties with the Russian government "absurd."
Whether Trump's recent comments are merely a way to steal attention away from Clinton during her party's convention or if–to borrow a phrase from Trump–"something else is going on," well, that's for you to decide.