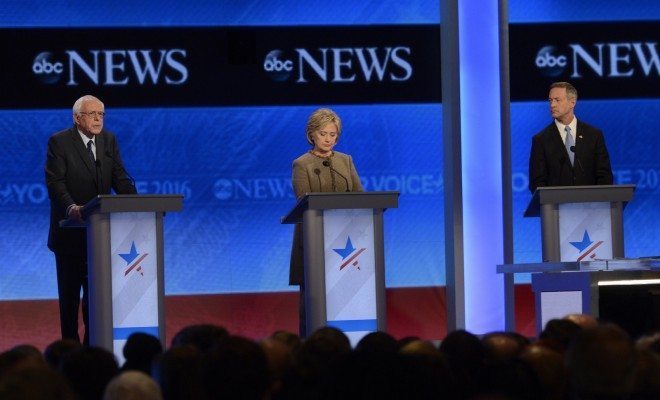 Image courtesy of [Disney/ABC Television Group via Flickr]
Elections
Debate Drama on Both Sides in 2016
By
|
Primary season is upon us, and it seems you can't scroll through your TV guide without passing a televised political debate. For political junkies, the primary debates are equivalent to Sunday Night Football, with fans watching eagerly for stand-out moments, which can be alternately career–defining, or campaign–destroying. It's easy to feel saturated with the political back-and-forth, especially considering the GOP candidates will debate seven times in the first three months of 2016.
Amidst all the chaos of these events, however, there are some regulations the campaigns and candidates must follow. Each of the two major parties lay out a schedule and a list of restrictions–if you want to be their nominee, you have to play by their rules. Both the Republican and Democratic National Conventions forbid candidates from performing in sanctioned debates if they participate in an un-sanctioned debate. This means that the debates organized by the party are the only debates a candidate can participate in, if they want that media coverage.
When it comes to scheduling there are stark differences, however, between the parties. The DNC announced that it would organize a total of six debates from 2015-2016, down from 26 debates in the '07-'08 election. The RNC also reduced the number of debates, from the 20 between 2011-2012 to twelve debates this season.
Debbie Wasserman-Schultz, the chair of the DNC, has received criticism for limiting the number of official debates, and for scheduling the debates for time slots with low viewership. Critics of Wasserman-Schultz see the debate schedule as support for Hillary Clinton, as Clinton is a more familiar candidate, while Bernie Sanders might benefit from more airtime to introduce himself to voters and put his message forward.
One loophole used by candidates on both sides is to join a "forum" or "town hall." These events still involve candidates answering questions live on television, but are distinct from debates in that the candidates take turns, and don't interact with or respond to each other. The Democrats and Republicans each have four forums scheduled.  As for other debates, MSNBC and The Union Leader newspaper are considering hosting a separate, unsanctioned debate, which could disqualify participants.
Thursday's Republican debate is already drawing headlines for the candidate who won't be there–none other than the chief headline-drawer himself, Donald Trump. Trump asked followers on Twitter whether he should attend the debate, and eventually his campaign stated he will refuse to participate due to his discontentment with Megyn Kelly's position as moderator. A move like this might spell trouble for the RNC's ability to control its already anti-establishment candidates. This does not, however, bar him from participating in other official debates.
Fox News representatives fired back at Trump's refusal, poking fun at his decision to poll his millions of Twitter followers.
We learned from a secret back channel that the Ayatollah and Putin both intend to treat Donald Trump unfairly when they meet with him if he becomes president — a nefarious source tells us that Trump has his own secret plan to replace the Cabinet with his Twitter followers to see if he should even go to those meetings
Trump didn't take too kindly to the barb:
The statement put out yesterday by @FoxNews was a disgrace to good broadcasting and journalism. Who would ever say something so nasty & dumb

— Donald J. Trump (@realDonaldTrump) January 27, 2016
Following this refusal, Ted Cruz, Trump's biggest rival in the Iowa caucus, challenged Trump to a "mano a mano" debate between the two. This sort of event would be right in Cruz's wheelhouse, as during his undergraduate years he shined on Princeton's extemporaneous debate team. But such a debate would be against the RNC's rules, and would forbid either candidate from participating in future RNC debates.
While leadership from each party has control over the sanctioned debates, we may see more town hall forums spring up throughout primary season. If rebukes like Trump's become more common, the control of the parties might begin to slip away, leading to an even more unpredictable primary season.