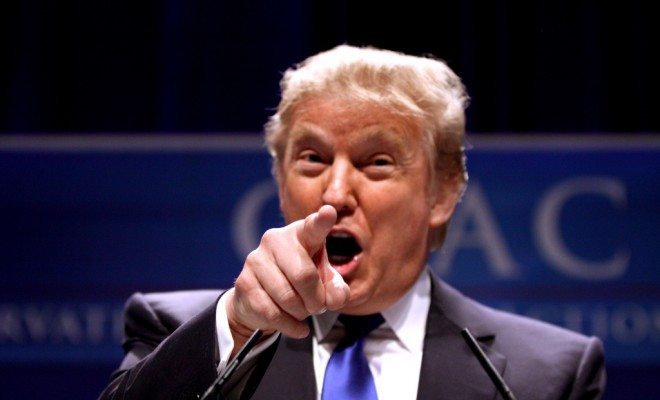 "Donald Trump" Courtesy of [Gage Skidmore via Flickr]
Elections
Cruz is Out and Trump is in, What's Next?
By
|
It all ended (or began) in Indiana. Voting ended at 6 PM and before the night was over, Ted Cruz was out of the race and Donald Trump had all but secured the Republican nomination.
Here's a tweet from Reince Priebus, the Chairman of the Republican National Committee:
.@realDonaldTrump will be presumptive @GOP nominee, we all need to unite and focus on defeating @HillaryClinton #NeverClinton

— Reince Priebus (@Reince) May 4, 2016
After Tuesday, we now know who the eventual nominees will almost certainly be: Hillary Clinton and Donald Trump. (Sorry Bernie fans, but it's just not in the cards for him. He needs to win more than 65 percent of the remaining vote and he's actually in worse shape today than he was before the Hoosiers took to the polls, despite winning their state).
Ted Cruz ran an impressive campaign, he was well organized, and had a better understanding of the electorate relative to most of his competitors. But Cruz was already looking like a longshot before he suspended his campaign on Tuesday night. Despite announcing Carly Fiorina as his choice for Vice President as last ditch effort, Cruz has been mathematically eliminated since the New York primary. Meaning that his only chances of securing the nomination rested on the possibility of a contested convention in which the frontrunner, Trump, did not win a majority of the Republican delegates before the party's convention. Given that, especially in the last couple weeks, Trump was already on a pretty clear path to the necessary 1,237 delegates, the Cruz campaign had little hope. And although it may not have made a difference, the Republican Party remained notably reluctant to get behind Cruz. Just look at what former Speaker of the House John Boehner just said about him.
And now, for all intents and purposes, the general election campaign begins. Although Sanders and Clinton will continue to challenge each other, barring an extraordinary and unprecedented change of heart among the superdelegates, Clinton has it wrapped up. And now that Cruz is out, Trump has a clear path to the nomination (although Kasich is still running?).
So the remaining question is whether or not the parties will unite to support their presumptive nominees. We now have to wait and see how Republicans react to Donald Trump securing their nomination. To be fair, this is still a question for the Democrats too–Sanders has received more support than anyone thought possible and some question whether those supporters will easily shift to support Clinton–but for Republicans, it's a much bigger issue. Given that the party split apart in the primary season as some of its leaders embarked on a crusade to stop Trump, that question is particularly important.
As the general election starts to begin, it's anyone's guess as to what happens next. The conventional wisdom suggests that Hillary Clinton is a strong favorite. She's winning in head-to-head polls, which are now just starting to become somewhat useful. Republicans are deeply fractured among those who oppose and support Trump. And the only candidate with a lower net favorability rating (the percent people who view a candidate positively minus those who view him or her negatively) than Hillary Clinton is, in fact, Donald Trump. The biggest question is who turns out to vote on election day. Are Democrats able to mobilize their supporters for a somewhat lackluster candidate, and are Republicans willing to rally around Trump?
While Clinton looks like she has a formidable lead at this point, the conventional wisdom has been wrong several times so far. After all, Donald Trump is going to be the Republican nominee for president.