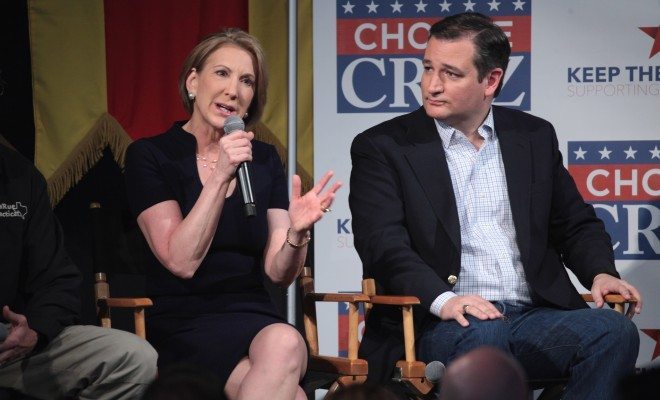 "Carly Fiorina & Ted Cruz" Courtesy of [Gage Skidmore via Flickr]
Elections
Cruz-Fiorina: The Trump Takedown Team Is Here, But Is It Too Late?
By
|
The right-wing's dynamic duo has arrived: after much speculation, Ted Cruz confirmed Wednesday at a rally in Indianapolis that former candidate Carly Fiorina would be his running mate. If this announcement seems premature, that's because candidates don't normally choose their number twos until after they have actually ensured their position as the nominee. However, as the outlook for Cruz's nomination looks increasingly grim day by day, Fiorina may provide him with a much-needed (but probably too late) bump in the polls. The former HP executive endorsed Cruz after dropping out of the race in February, saying that he was the only candidate with the potential to beat Trump.
After this Tuesday's round of primaries, where The Donald won victories in all five of the Republican contests, it's looking more and more difficult to slow down the Trump train. In Wednesday's rally, Cruz reiterated his confidence that no one would reach the 1,237 delegates needed to win the nomination, creating a contested convention.
The announcement also comes after Trump received criticism for accusing Hillary Clinton of using the "woman card" to secure votes. While Cruz's speech didn't address these comments directly, he hit hard on Fiorina's accomplishments as a professional and said that she "shattered the glass ceiling." Having Fiorina on the ticket stands in contrast to Trump's comments, and could provide a compelling reason for female GOP voters to side with Cruz.
If I am nominated, I will run on a ticket with @carlyfiorina as my Vice President. Join us: https://t.co/sGy8idmZDEhttps://t.co/4RZxR2zlMz

— Ted Cruz (@tedcruz) April 27, 2016
Another narrative that Cruz and Fiorina emphasized at the rally was the idea of Trump as a "Washington insider," comparing him to Clinton and insisting that he was a "liberal" and lover of big government. Regarding the potential Trump-Clinton contest, Fiorina stated: "They're not going to challenge the system; they are the system."
For the Republican Party, Trump is looking more and more like the super-villain that can't be beat, despite the fact that everyone is teaming up to bring him down. Earlier this week, Kasich and Cruz announced their plan to work together to weaken Trump's lead and create a contested convention, but it seems like it might be too little, too late. Bringing down the relentless Trump machine may be too far out of reach at this point, but there's certainly not a lack of trying.