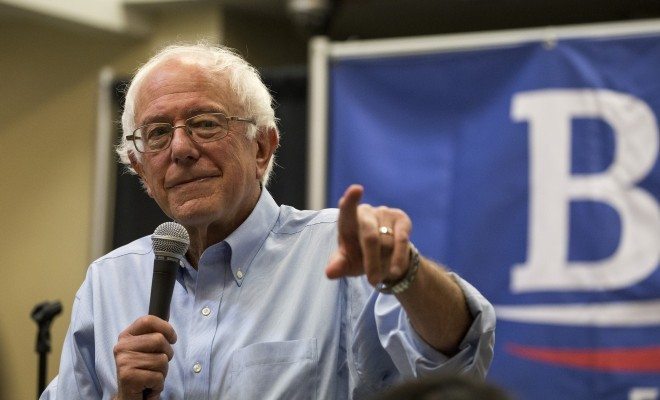 "Bernie Sanders for President" courtesy of [Phil Roeder via Flickr]
Elections
"Bernie Sanders And Chill": Using Tinder as a Canvassing Tool
By
|
If you've used the app Tinder, a match-making social app which allows you to "swipe right" on potential matches for a chance to chat with them, then you know there's a fair share of duds. There are the people who can't hold a conversation, ones who are too flaky to meet for a proper date, and ones who just blatantly want to get into your pants. Now, however, there may be a new Tinder plague, and it's some Bernie Sanders supporters.
Tinder troll asks her matches to 'Feel the Bern,' gets banned https://t.co/8ZoazQ7MHM pic.twitter.com/S20SebyEiX

— Mashable (@mashable) February 5, 2016
That's right–these ardent fans of Senator Sanders created Tinder profiles, and once they match with you, they bombard you with pro-Sanders arguments, and encourage you to vote for him in the primaries. Often, they'll include a number to text "WORK" to, which donates $5 tacked onto a user's phone bill to Sanders' campaign. There's even a Facebook page, called "Bernie Sanders' Dank Tinder Convos" where fans share their 'intellectual conversations' with the unsuspecting (and single) public. "I won't blow you, but Bernie Sanders will blow you away with his progressive policies" is one memorable rejoinder. One particularly jarring experience is seeing Bernie Sanders' own face on a Tinder profile, as seen in this fake account created by a supporter.
Raleigh woman surprised by Bernie Sanders appearing on her Tinder app. He's looking for votes, not a date. pic.twitter.com/oyW5q5nBrP

— Steve Daniels (@DanielsABC11) January 29, 2016
Some supporters are even paying up for the chance to spread the gospel of Sanders, by purchasing Tinder's premium option. This lets them to choose alternate locations to 'swipe' in, allowing Sanders supporters all across the country to communicate to New Hampshirites. Curiously enough, I couldn't find any examples of "Bernie Bros" doing this kind of canvassing, perhaps due to the fact that women get more 'right swipes' on Tinder, making their message-spreading more effective. Tinder is not so fond of this unlicensed marketing, as they've been banning users who abuse their service for political gains. That's as it should be–Tinder is a safe space for matching with that kid from your high school calculus class ten years later, and should be reserved for such venerable acts.