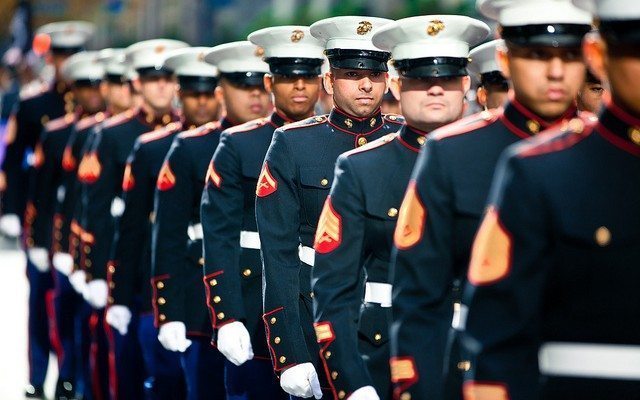 Image courtesy of DVIDSHUB; License: (CC BY 2.0)
Politics
The Problems with Trump's Trans Military Announcement
By
|
President Trump tweeted on Wednesday that transgender people will no longer be allowed "to serve in any capacity in the U.S. military" because the "tremendous medical costs and disruption" would become a burden and distract armed services from "decisive and overwhelming victory."
The announcement will reverse the Pentagon's 2016 decision to lift the long-standing ban that had prevented transgender individuals from serving openly in the military. It also falls in line with other measures and decisions the administration has made concerning the transgender community, including removing the LGBT rights page from the White House's official site, rescinding a rule that allowed transgender students to use their preferred bathroom in public schools, and dropping the federal lawsuit challenging North Carolina's "bathroom bill."
Given that track record, it makes sense that Trump decided to discuss the decision with unnamed "Generals and military experts," rather than with the Pentagon–which has commissioned studies that identify almost no downside to lifting the transgender ban. In fact, the Department of Defense was so out of the loop in the recent decision that reporters who asked Pentagon officials about Trump's tweets were told to call the White House instead.
This is an obvious leap backward for the rights of transgender people in the United States. The ban will only enhance the existing problems that this country has when dealing with gender identity and the military.
A Financially Dubious Decision
In 2016, the Rand Corporation published a report titled "Assessing the Implications of Allowing Transgender Personnel to Serve Openly," which the Department of Defense commissioned. The report concluded that annual active-component health care costs would increase by anywhere from $2.4 million to $8.4 million–yielding a 0.04 to 0.13 percent increase in health care expenditures. In total, those costs would amount to about a thousandth of a percent of the military's annual budget. Some have said that their biggest concern is the use of taxpayer funding for expensive gender reassignment surgeries, which may not allow transgender soldiers to fight on the front lines. But according to the Rand report, "less than 0.1 percent of the total force would seek transition-related care that could disrupt their ability to deploy." The report's authors recommended developing an explicit written policy on for the gender transition process to avoid any disruptions to service member and unit readiness.
Even if you choose to ignore the percent increase in costs and only focus on the total cost of military health care, it's worth noting that U.S. military spending is high relative to the rest of the world. The United States spends more money on its military than the following eight countries with the highest defense spending combined–an approximate $611 billion–and the House recently passed a bill that would increase military spending by nearly $30 billion next year. The military spends about $50 billion on health care, which includes a few interesting expenses. For example, a Washington Post analysis found the military spends five times as much on Viagra as it would on transgender troops' medical care. But some in the House were still looking to remove gender reassignment surgery coverage from the military budget nonetheless, although that effort failed. In a way, proponents of such a change got what they were looking for and continued their crusade against denying health care to Americans.
Significant Consequences
Prior to the Pentagon's 2016 decision, military service members who revealed their transgender identity could be kicked out or denied reenlistment solely on that basis. This meant they would be denied the benefits previously provided for them by the military, including health care and severance pay, due to being considered "unfit to serve." Trump's announcement leaves much to the imagination as to what will happen to anywhere from 1,300 to over 15,000 transgender service members currently enlisted, but a return to the old discharge format seems likely.
Current statistics show that 16 percent of transgender and gender nonconforming people have lost their jobs due to their gender identity–according to a 2015 survey of over 27,000 transgender people conducted by the National Center for Transgender Equality (NCTE). But Trump still wants to strip the military of its status as the largest employer of transgender workers in the United States for "cost effectiveness." It is also worth noting that this would cut necessary income and health care from a group that faces significant challenges. According to the same NCTE survey, transgender and gender nonconforming people have an unemployment rate that is three times that of the national average, report having experienced psychological distress in the last month at a rate that is 34 percentage points higher than the U.S. population, and one-third say they have been homeless at some point in their life.
America's Relationship With its Military
There are two prongs to this topic. The first looks at the general issue of trans-erasure. The cynic will argue that it's a good thing that transgender people no longer have to participate in a "murderous imperial institution." But that's not the only way to look at this issue. The act of excluding a group of people from public institutions–particularly those that are (excessively) associated with social responsibility like the military–devalues that group of people in society because of that lack of exposure and erases their importance. Eventually, the perception will grow that the transgender community is full of people who don't serve their country, and only take from it instead of giving back. This, of course, would be a stark contrast to our wonderful president–who dodged the draft a total of five times, once arguing he couldn't serve in the U.S. military because of bone spurs in his heels.
Regardless, both Democrats and Republicans have expressed their concerns with Trump's decision because many understand that–at its core–the ban is more focused on discriminating against transgender people than cutting costs. A bipartisan stand against discrimination is hard to have a problem with, but I'm going to try anyway. Unfortunately, this bipartisan position comes from the country's obsession with the military and all of the glory that comes with it, and that's the second prong.
Whether politicians want to admit it or not, there are transgender people who live in their states and districts. There is a responsibility to show that the lives their constituents–especially those in underrepresented groups–matter to them.
But, unfortunately, they don't in this country. Trans women face a 4.3 times higher risk of being murdered compared to cis women in the U.S., and at least 87 percent of the trans people murdered between 2013 to 2015 were people of color, according to a study done by the Human Rights Campaign. According to the NCTE, 40 percent of transgender people have attempted suicide at one point in their life. So for a brief moment on Wednesday, it was a nice change of pace to see Democrats and Republicans come forward against the ban and in support of the lives of transgender people. So what changed?
It's simple. It took challenging transgender Americans' ability to serve in the military for many politicians to finally stand up for their rights. For many members of Congress, this is the first time they made that kind of statement, which meant that trans rights only began to matter when trans people could no longer die for their country. The transgender community deserves better than that.
The lives of underrepresented, and outright oppressed, citizens should not depend on whether or not they are willing to fight for their country, especially when that country does nothing to fight for them. The optimist will hope that this opens the door for more trans support from politicians, but unless it can score them political points, that probably won't happen.