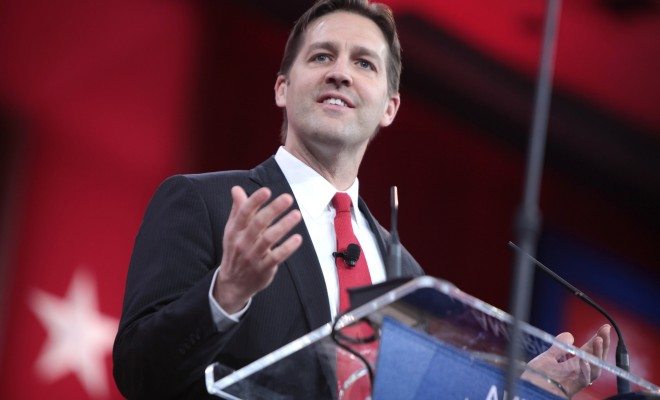 Image courtesy of [Gage Skidmore via Flickr]
Elections
Ben Sasse: Nebraska Senator Calls for 3rd Party Candidate
By
|
As it becomes almost inevitable that Donald Trump will be the GOP's nominee (given that every other candidate in the running has dropped out), many people aren't happy. The "Dump Trump" and "Never Trump" movements are still alive and well. Ben Sasse, a Republican Senator from Nebraska, recently went particularly on the offensive against Trump–and the apparent Democratic nominee, Hillary Clinton–calling for a third party candidate in a Facebook open letter that has now gone viral.
Sasse's letter, while long-winded and in places somewhat thin on real substance and a bit heavy on rhetoric, is unabashedly honest about what his frustrations are with the party system. Some highlights:
I've ignored my phone most of today, but the voicemail is overflowing with party bosses and politicos telling me that 'although Trump is terrible,' we 'have to' support him, 'because the only choice is Trump or Hillary.' This open letter aims simply to ask, 'WHY is that the only choice?'

…

I signed up for the Party of Abraham Lincoln — and I will work to reform and restore the GOP — but let's tell the plain truth that right now both parties lack vision.

…

In the history of polling, we've basically never had a candidate viewed negatively by half of the electorate. This year, we have two. In fact, we now have the two most unpopular candidates ever – Hillary by a little, and Trump by miles (including now 3 out of 4 women – who vote more and influence more votes than men). There are dumpster fires in my town more popular than these two 'leaders.'

…

I think there is room – an appetite – for such a candidate.
Despite the fact that the open letter was very much a call for a third party candidate to run in 2016, Sasse implied that he would not be willing to be that candidate, stating: "Such a leader should be able to campaign 24/7 for the next six months. Therefore he/she likely can't be an engaged parent with little kids." That would, presumably, rule him out, given that he has three children.
Sasse has been very vocal about his opposition to Donald Trump, according to the Washington Post's Aaron Blake: "Sasse is still the only sitting GOP senator to say he simply won't vote for Trump under any circumstances." Sasse also published a series of tweets about his open letter, mostly in the same vein.
Now that it looks like Trump is certain to be the  nominee, the rift in the Republican Party between the "never Trump" adherents and the "Trump, now, I guess" advocates threatens to widen. We'll have to see if Sasse's appeal attracts any viable third party candidates.