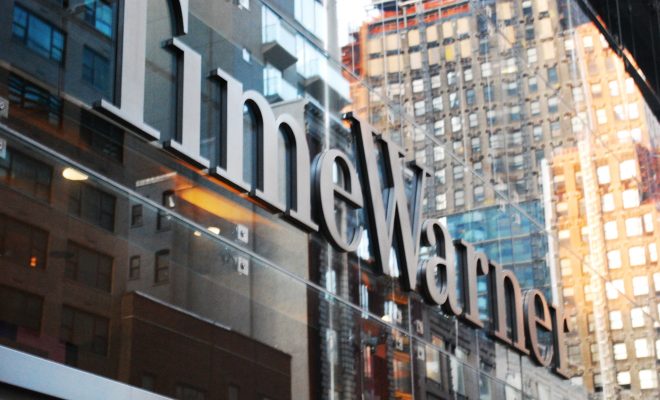 "Welcome to Time Warner" courtesy of Edgar Zuniga Jr.; License: (CC BY-ND 2.0)
Elections
The AT&T-Time Warner Deal Quickly Becomes a Campaign Issue
By
|
AT&T's $85.4 billion deal to buy Time Warner turned media consolidation into a campaign issue for both Democrats and Republicans this past weekend. 
The biggest deal of the year–announced just over two weeks before the November 8 U.S. election–received backlash from critics who believe the combination of AT&T's millions of wireless and pay-television subscribers with Time Warner's stable of TV networks and programming would reduce competition and hurt consumers.
Any merger would have to be reviewed and approved by federal antitrust regulators. The announcement caused a stir in Washington and led the candidates to criticize the status quo on antitrust and regulatory enforcement.
Donald Trump's campaign has remained vocal about its distaste for the media and proposed merger did not sit well with the billionaire mogul.
"As an example of the power structure I'm fighting, AT&T is buying Time Warner and thus CNN, a deal we will not approve in my administration because it's too much concentration of power in the hands of too few," Trump said during a speech on Saturday.
The Republican candidate has been vocal about the "disgusting and corrupt" media. The campaign's economic advisor Peter Navarro criticized the new media oligopolies for unduly influencing America's political process.
"AT&T, the original and abusive 'Ma Bell' telephone monopoly, is now trying to buy Time Warner and thus the wildly anti-Trump CNN. Donald Trump would never approve such a deal because it concentrates too much power in the hands of the too and powerful few," Navarro said in a statement on Sunday.
Trump said that if he is elected, he would look at breaking up the 2011 merger of Comcast and NBCUniversal. The Obama administration approved the merger with some restrictions in 2011.
Trump said of Comcast-NBCUniversal, "We'll look at breaking that deal up, and other deals like that. This should never, ever have been approved in the first place."
Democratic nominee Hillary Clinton hasn't yet weighed in on the merger plan, but her running mate, Senator Tim Kaine of Virginia, said on NBC's "Meet the Press" that he shared "concerns and questions" raised by fellow Senator Al Franken, a Democrat representing Minnesota. Franken, a member of the antitrust subcommittee, said in a statement that huge media mergers "can lead to higher costs, fewer choices, and even worse service for consumers."
Vermont Senator Bernie Sanders joined the political opposition and urged the Obama administration to kill the deal. He tweeted:
The administration should kill the Time Warner-AT&T merger. This deal would mean higher prices and fewer choices for the American people.

— Bernie Sanders (@BernieSanders) October 23, 2016