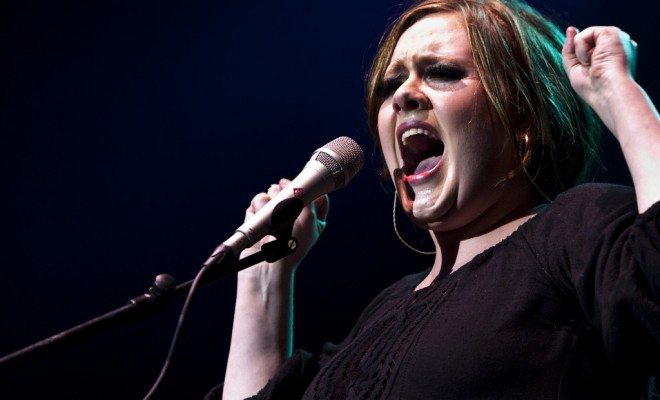 "Adele HMH 2009-5" courtesy of [Ben Houdijk via Flickr]
Elections
Adele Apparently Not Happy with Candidates Using her Music
By
|
Adele is one of the best selling artists of all time, and one of today's most-loved pop culture figures. So, it's understandable that Republican candidates dueling it out in Iowa would want to link themselves to the "Hello" and "Someone Like You" singer. However, Adele doesn't appear to be too happy with her music being used by Republican candidates.
Republican frontrunner Donald Trump recently used the Adele song "Rolling in the Deep" at a campaign stop in Waterloo, Iowa. It's a song that lends itself well to the fiery rhetoric used by the Trump campaign, with lines such as:
There's a fire starting in my heart
Reaching a fever pitch
And it's bringing me out the dark
Trump has also used the song "Skyfall," at rallies–recognizable to many voters as the song Adele created for James Bond movie of the same name. He does appear to be a fan of the British singer/songwriter–Tina Fey has a very entertaining story about attempting to avoid talking to Trump at a recent Adele concert in New York.
But, Adele has officially stated that she doesn't endorse Trump's use of the song; her spokesperson told Billboard, "Adele has not given permission for her music to be used for any political campaigning."
Then, there's Mike Huckabee, who made an utterly cringe-worthy version of Adele's "Hello."
There are a lot of things that can be said about the video (including the fact that this awful version of the song has been stuck in my head since it was released last week). While Adele hasn't made any specific statements about Huckabee's use, the comment that she hasn't agreed to let her music be used by any campaign probably applies to his video as well, although the fact that it could be considered a parody bring it into a slightly gray area.
Finally, Chris Christie also made an Adele homage to attack Marco Rubio, including a video set to the tune of "Hello," as well as sending out this tweet:
Hello @marcorubio, it's me. #tbtpic.twitter.com/RAo3HAkgb2

— Chris Christie (@ChrisChristie) January 7, 2016
The use of music in campaigns has always been controversial, but it's still unclear whether or not Adele's team will take any official action against the use of her songs or lyrics. So, for now, expect to see more pop culture-use by the contenders vying for victory in Iowa.