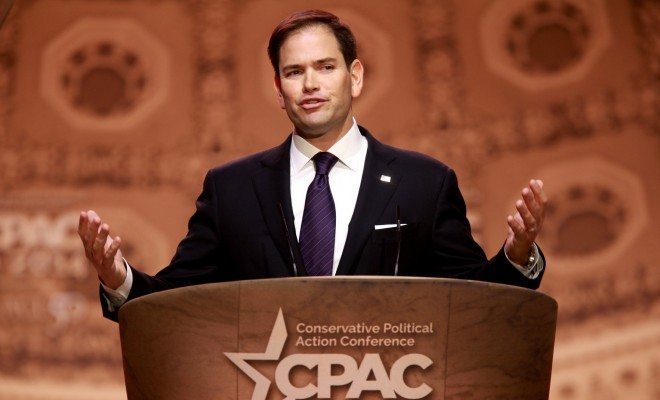 Image courtesy of [Gage Skidmore via Flickr]
Elections
Marco Rubio: Going After Millennials for 2016
By
|
Get excited everyone! The 2016 presidential campaign is beginning to take shape, with Ted Cruz, Rand Paul, and Hillary Clinton all formally throwing their names into this election's version of the Goblet of Fire. But let's talk about the newest candidate to submit his bid for office–the 43-year-old Republican Junior Senator from Florida, Marco Rubio. His fresh face and conscious appeal to younger voters has already garnered comparisons to a young Barack Obama, but his shorter resume compared to his peers makes him a less familiar face for many voters.
That's why I decided to compile some interesting facts about our newest Republican candidate that demonstrate just how "hip" with our generation he really is. So without further adieu here are the three facts millennials should know about presidential hopeful Marco Rubio.
He's Meme Friendly
One thing we millennials love is our memes, and Rubio tapped into that love of combining photos with witty commentary when he gave us the awkward sip seen around the world. If you haven't seen the sip, it happened during his turn at the GOP rebuttal to Obama's State of the Union in 2013. Rubio took an uncomfortable pause in the middle of the speech for a questionably timed water break that managed to creep out many viewers.
.@marcorubio: He reaches for water, but we're breaking out the Arbor red. pic.twitter.com/O6ATmGumkE

— The Democrats (@TheDemocrats) April 13, 2015
His nervous lip smacking combined with uncomfortably direct eye contact proved to be the perfect recipe for an instant viral meme. That sip alone generated at least 15 different parody Twitter accounts and instantly earned Rubio 13,000 new followers. With those kinds of gains in followers, Rubio could take this election one sip at a time.
Picked up over 13,000 new followers on #twitter since last night! Im going to start drinking #water in the middle of all of my speeches! — Marco Rubio (@marcorubio) February 13, 2013
He Loves Rap Music
In a December 2012 interview with GQ magazine, Rubio transformed into an old school music lover out of nowhere, sharing his affinity for Afrika Bambaataa, Public Enemy, and Tupac, and earning some instant street cred. When it comes to music Rubio prefers intensity over "party anthems" calling Eminem his favorite artist and "the only guy that speaks at any sort of depth." When asked by GQ if he had a favorite song to play to psych him up before a Senate vote Rubio laughed saying:
..in terms of psyching yourself up, I don't have time for that. You know you can't put on earphones and the storm the floor and vote.
If you ever wondered what Rubio is currently jamming out to, he was kind enough to share his public Spotify playlist, but sadly it lacks Rubio's favorite tracks which include: "Straight Outta Compton" by N.W.A., "Killuminati" by Tupac, and Eminem's "Lose Yourself."
He's Social Media Savvy…Or at Least He Thinks He is
Rubio began his presidential campaign by first asking supporters to add him as a friend on Snapchat. Yes, Snpachat, the quick deleting photo/video sharing app that's usually known for less than wholesome uses.
I'm now on @Snapchat. My username is marcorubio16. Please add me. — Marco Rubio (@marcorubio) April 13, 2015
However, his "story" making skills still need some work. His first posts consisted of a lot of clapping and name chanting from his presidential campaign announcement, as well as him being driven away in a super sexy gold minivan. I'm hoping he'll step his selfie game up soon, or if all else fails just videotape himself taking more awkward sips from tiny water bottles. But till then I still want to know if Rubio is team follow back or nahh?
hi @marcorubio are you team follow back or what pic.twitter.com/l2KzeLAp35 — Marisa Kabas (@MarisaKabas) April 13, 2015
Why you gotta be so rude pic.twitter.com/HlAlqnnlQq — Marisa Kabas (@MarisaKabas) April 13, 2015
Since announcing his candidacy last night, Rubio has already begun to try to spin his inexperience and youngest contender status–both of which are concerns for the American people–to his advantage. Whether his plea to millennials will help him actually connect with younger voters will have to be seen.