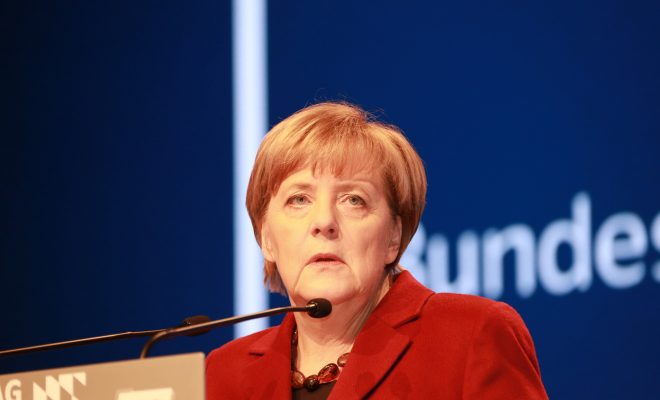 Image Courtesy of Metropolico.org; License: (CC BY-SA 2.0)
World
Will Germany Ban Full-Face Veils for Muslim Women?
By
|
During a speech on Tuesday, German Chancellor Angela Merkel proposed a ban on full-face veils, eliciting raucous cheers from the audience. "Here we say, 'Show your face,'" she said during her 80-minute speech. "So full veiling is not appropriate here. It should be prohibited wherever legally possible." Her shift in tone on what her country would accept amid a rising tide of anti-immigration sentiment in Germany and elsewhere in Europe could be an appeal to far-right voters before the federal elections next year.
The speech was made to acknowledge her acceptance of the nomination of the center-right Christian Democratic Union, the party she has led since 2000. Though the party suffered an embarrassing loss to a far-right party in a local election in September, Merkel was nominated to head the CDU with convincing support: she won 89.5 percent of votes from 994 delegates. A few weeks ago, Merkel announced she will be running for a fourth term.
During her speech, which ended with a 12-minute standing ovation, Merkel hinted at the rising tides of populism, and the recent challenges to liberal democratic ideals. "A good quarter century after the end of the Cold War and the dissolution of the two blocs, many people have the feeling that the world has gone off the rails," she said.
And while she managed to avoid naming President-elect Donald Trump explicitly, she did nod in his direction. "We are dealing with a world situation — and that is especially true after the American elections — in which the world must first sort itself out," she said. "Especially when looking at important things like NATO and the relationship to Russia." Trump questioned the U.S.-NATO alliance during his campaign.
Since Merkel allowed nearly one million migrants from the Middle East, many from Syria, into Germany last year, she has had to deal with rising criticism at home and abroad. Germany will weigh in on her leadership during next year's elections, and many see Tuesday's speech as a way to placate the fears that are fanning far-right, nationalist movements, and assure those voters that she will be staunch to defend German values. In addition to supporting a full-face veil ban, Merkel said Shariah Law could never supplant German justice.