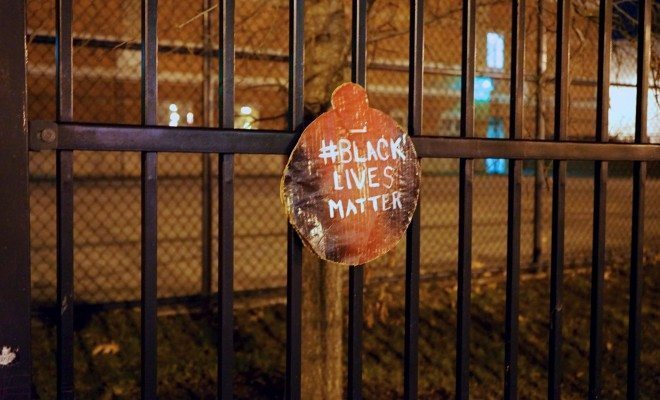 Featured image courtesy of [Ted Eytan via Flickr]
World
When I See Them, I See Us: Black American and Palestinian Activists Join Together
By
|
Sixty celebrities, artists, and activists from the United States and Palestine joined together to create a powerful video highlighting the solidarity between Black Americans and Palestinians. American celebrities that participated in order to bring attention to the movement include Grammy Winner Lauryn Hill, author and Pulitzer Prize winner Alice Walker, actor Danny Glover, and political activists Cornel West and Angela Davis, among others. Centered around variations of the line "When I see them, I see us," the short video draws comparisons between the struggles of Black Americans and Palestinians.
The video project was spearheaded by Noura Erakat, a human rights attorney and an assistant professor at George Mason University in Virginia. She was inspired to make the video after observing the events of the summer of 2014 in both the United States and Palestine. That summer, protests erupted in the United States after the killing of Michael Brown in Ferguson, Missouri, and have continued as more Black Americans have died at the hands of the police in the United States. Concurrently, Israel launched operations against the Gaza Strip, killing over 2,000 Palestinians. While the experiences between Black Americans and Palestinians are obviously different in many ways, the members of the movement focus on larger similarities, rather than divergences, to make a point about human rights issues writ large. Those who have joined the movement see similarities between state-sanctioned violence and the institutionalization of racism with which both groups have to contend. Erakat explained how a comparison of those two events inspired her, stating:
Here were two groups of people dealing with completely different historical trajectories, but both which resulted in a process of dehumanization that criminalized them and that subject their bodies as expendable. Not only were their lives more vulnerable and disposable, but that even in their death, they were blamed for their own death.
The video, which juxtaposes Black American and Palestinians killed, isn't the first example of solidarity between the two groups of people. According to the press release accompanying the video:
It comes on the heels of an Aug. 19 statement signed by more than 1,100 Black activists, artists, scholars, students and organizations that calls for 'solidarity with the Palestinian struggle' as well as a boycott of private prison company G4S and other corporations profiting from Israeli occupation.
Additionally, during protests in Ferguson last summer, Palestinian activists used social media to offer advice in support–for example, some provided tips on how to deal with tear gas. Black Lives Matter activists also visited Palestine earlier this year, also in a show of solidarity and support.
The video is powerful, and makes exactly the point that its creators intend. As Erakat stated: "It's really affirming the idea that none of us are free unless all of us are free."