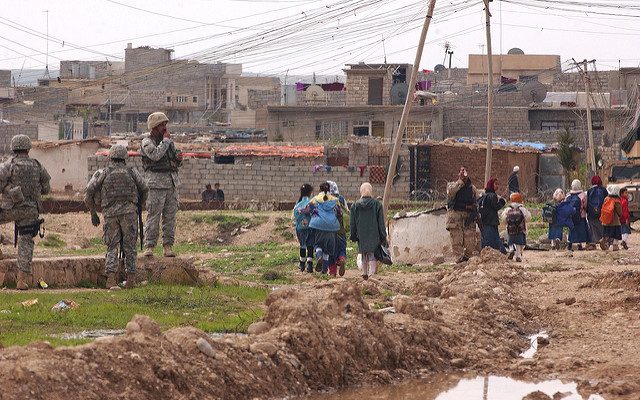 "Mosul" courtesy of The U.S. Army. License (CC BY 2.0)
World
War Crimes in Mosul?: Amnesty Claims All Parties Violated International Law
By
|
On Tuesday, Amnesty International, the global human rights organization, said that patterns of attack conducted by forces on both sides of the battle between ISIS and the Iraqi-American coalition violated international law in Mosul.
The report was released a day after Iraqi Prime minister Haider al-Abadi declared victory for the Iraqi-led forces in the ISIS stronghold city of Mosul almost three years since the the terrorist group captured the city.
A long and bloody nine months of fighting between the forces led to not only thousands of innocent deaths, but caused hundreds of thousands to be displaced from the city.
Amnesty International's report claims that many of those deaths were not simply casualties of war, rather they were the result of  seemingly indiscriminate and reckless attacks conducted by members from both sides of the conflict. Lynn Maalouf, Director of Research for the Middle East at Amnesty International, expressed the importance of justice for the citizens of Mosul:
The horrors that the people of Mosul have witnessed and the disregard for human life by all parties to this conflict must not go unpunished. Entire families have been wiped out, many of whom are still buried under the rubble today. The people of Mosul deserve to know, from their government, that there will be justice and reparation so that the harrowing impact of this operation is duly addressed.
In its report, Amnesty describes how ISIS forced citizens of Mosul into new areas of the city to effectively use them as "human shields." By relocating citizens to the western part of Mosul, ISIS created a barrier between its fighters and the Iraqi-American coalition. ISIS was able to keep civilians there by welding doors shut and booby trapping exits, and fighters would kill anyone who tried to escape.
On the flip side, the U.S. and Iraqi coalition chose to use weapons that were much too powerful for their intended targets or take the necessary precautions to protect civilians when conducting attacks. For example the report states on March 17 a U.S. airstrike that targeted two ISIS snipers ended up killing 105 innocent civilians. The report charges that the coalition failed to "adapt their tactics" and ended up doing significantly more harm than necessary.
Military officials from the Pentagon have so far rebuffed the alleged violations of international law. Lt. Gen. Stephen Townsend said in a press conference:
I would challenge the people from Amnesty International or anyone else out there who makes these charges to first research their facts and make sure they're speaking from a position of authority.
Next steps at this point are unknown. Holding states liable for their actions during wartime is difficult, even more so when non-state actors like ISIS are involved. But U.N. officials have said that accountability will be sought for the situation in Mosul.