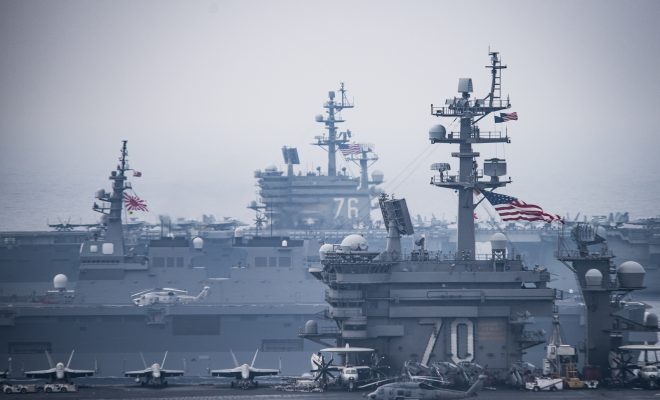 Image courtesy of Official U.S. Navy Page; license: (CC BY 2.0)
World
More Questions than Answers as Investigations into USS Fitzgerald Crash Begin
By
|
Early Saturday morning a Philippine-flagged merchant ship collided into the side of a U.S. warship off the coast of Japan. The crash caused several parts of the American ship, the USS Fitzgerald, to flood. On Sunday, seven sailors who went missing after the crash were found dead in the flooded compartments. Now people are asking questions, as it was revealed it took the Filipino ship an hour to alert the Japanese coastguard.
Vice Admiral Joseph Aucoin spoke to reporters at Yokosuka Naval Base in Japan on Sunday. He said considering the damage that was done to the ship, many more people could have died. "There was a big puncture, a big gash underneath the waterline," Aucoin said, adding that the flooding was "tremendous." No one knows what caused the crash and there are multiple investigations underway.
On Monday, a spokesperson for the Japanese coastguard, Takeshi Aikawa, said that the collision happened at 1:30 a.m. But the Philippine-flagged container ship, named the ACX Crystal, didn't alert Japanese authorities until at 2:25 a.m. Data from the ACX Crystal also shows that for some reason, the ship made a U-turn sometime between 12:58 a.m. and 2:46 a.m. Three U.S. crew members were injured, including Cmdr. Bryce Benson, who was in charge of the ship.
#USSFitzgerald listing after collision at about 3amJST with PH flagged container ship near Japan. (COR) Photo via NHK Helicopter pic.twitter.com/rSTVmE4Atw

— Robert Speta (@robertspeta) June 16, 2017
Japanese officials said they are conducting two separate investigations, one of which is for "endangerment of traffic caused by professional negligence." It was unclear whether that applied to the U.S. ship or the Filipino one. The U.S. Navy and Coast Guard also opened an investigation.
U.S. Navy confirms all 7 missing sailors from USS Fitzgerald found dead https://t.co/amOOEjsg7h pic.twitter.com/NTQCetvr2E

— Reuters Top News (@Reuters) June 19, 2017
No one seems to understand how the Fitzgerald, one of the most technologically advanced warships in the world, could be involved in an accident like this. The damage indicates that the Fitzgerald was hit on its right side, while the Crystal was damaged on its left side, suggesting they were traveling in the same direction. Most of the crew on the Fitzgerald was asleep when the collision occurred and big container ships like the Crystal are often lightly crewed and use an autopilot.
There is also the question why the Crystal made a sudden U-turn right before the accident. Acting Navy Secretary Sean Stackley said the Navy is determined to get to the bottom of things. "In due time, the United States Navy will fully investigate the cause of this tragedy," he said.