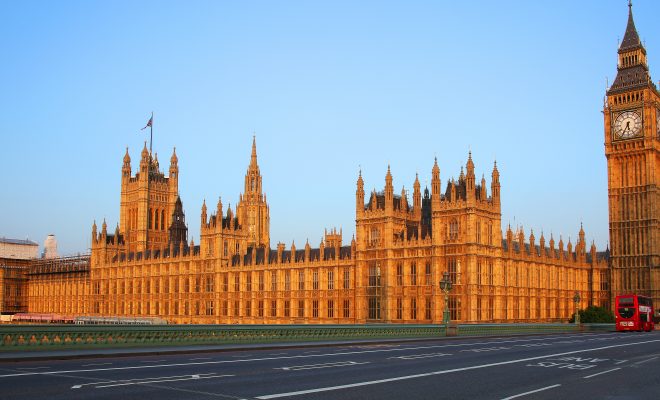 "British Parliament" Courtesy of Rennett Stowe : License (CC BY 2.0)
World
U.K., World Leaders Respond to Manchester Attack
By
|
Flags at Downing Street are flying at half mast today, as U.K. political leaders respond to the terror attack that left 22 dead and at least 59 injured after a concert in Manchester Monday night.
Union flags lowered to half mast in Downing Street following Manchester Arena attackhttps://t.co/Ty9bRdV4G4

(via @ChrisMasonBBC) pic.twitter.com/S3JieUS6rp

— BBC Breaking News (@BBCBreaking) May 23, 2017
The Islamic State has claimed responsibility for the attack at the Manchester Arena, where a single actor deployed an improvised explosive device just as a concert by pop singer Ariana Grande was ending. Greater Manchester Police arrested a 23-year-old man Tuesday in connection with the attack.
This attack is the largest terror incident in the U.K. since 7/7, a series of organized attacks on the London transport system in July 2005 where 52 people died and more than 700 were injured. It is the largest incident in North West England.
An Upcoming Election
In response to the attack, Prime Minister Theresa May has suspended all campaign activities for the upcoming June 8 general election.
In a statement at Downing Street, May called the attacker "warped and twisted" and resolved to "thwart" future attacks.
"All acts of terrorism are cowardly attacks on innocent people but this attack stands out for its appalling, sickening cowardice, deliberately targeting innocent, defenseless children and young people who should have been enjoying one of the most memorable nights of their lives," May said.
Campaigning was also suspended this past Sunday, as a show of respect and memorialization for Jo Cox, the Member of Parliament who was shot and killed last June just before the Brexit referendum.
This attack comes at a time of heightened political tension surrounding immigration and security, especially in the U.K. Two months ago, four people were killed in an attack outside Parliament, one year after the Brussels airport suicide bombing.
The U.K. is approaching the one-year anniversary of its citizens voting to leave the European Union, the outcome of which many believe was connected to fear of attacks like this one. The "Leave" campaign was criticized for a tweet that directly connected the Orlando nightclub shooting to Brexit, telling voters that a similar attack could befall them if they voted to remain in the EU. The tweet was taken down, but security and terror threats have remained strongholds in Brexit negotiations and U.K. politics in general.
Now, weeks before the general election, the assault at Manchester could cement Conservative power in Parliament.
Polls from the weekend showed the center-right Conservative Party's lead over leftist Labour slipping. Conservative Party leader May called the election to build support for her approach to Brexit negotiations and increase her party's 17-seat working majority in Parliament.
May's party has been stronger on Brexit and immigration. The recent polls may have indicated that a landslide victory for the Conservatives was out of the question, but the next few weeks will reveal whether the tragedy at Manchester Arena and fear of a similar attack will lead to increased support for May.
The attack also had an immediate effect on the value of the pound, which fell as low $1.2954 Tuesday morning.
Political Leaders Respond
The heads of the U.K.'s political parties have spoken out on the attack and suspended their campaign activities.
Jeremy Corbyn, Labour leader, spoke with May and agreed to suspend national campaigning.
Corbyn stated his support for the victims and their families and called the attack a "terrible incident."
"I am horrified by the horrendous events in Manchester last night," Corbyn said. "My thoughts are with families and friends of those who have died and  been injured. Today the whole country will grieve for the people who have lost their lives."
Tim Farron, leader of the Liberal Democrats, canceled a speaking engagement in Gibraltar, expressing sympathy to the victims and families. Farron was scheduled to meet with voters on his trip.
"This is a shocking and horrific attack targeting children and young people who were simply enjoying a concert," Farron said. "I would like to pay tribute to the bravery and dedication of the emergency services."
Paul Nuttall, the leader of the U.K. Independence Party (UKIP) and Member of European Parliament for North West England, canceled UKIP's campaign activities. The BBC also canceled a scheduled interview with Nuttall.
"Just woken to the terrible news in the heart of my constituency, Manchester," Nuttall said. "My prayers and thoughts are with those affected. Stay strong."
"Evil Losers"
World leaders across the globe have expressed condolences to the victims and their families and condemned the attack, including U.S. President Donald Trump.
From Bethlehem, where he met with Palestinian leadership, Trump called the assailant and those involved in the attack "evil losers." Early Tuesday morning he tweeted a message of solidarity with the British people.
We stand in absolute solidarity with the people of the United Kingdom. pic.twitter.com/X6fUUxxYXE

— Donald J. Trump (@realDonaldTrump) May 23, 2017