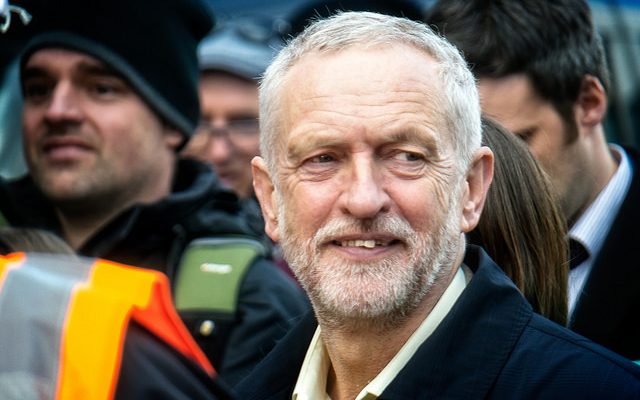 "Jeremy Corbyn" courtesy of Garry Knight: Licence (CC0 1.0)
World
U.K. Election: What's Next for the Hung Parliament?
By
|
While Americans were tuned into former FBI Director James Comey's Senate hearing yesterday, the British were headed to the polls–again. Prime Minister Theresa May called the June 8 snap election in an effort to increase her party's majority in Parliament and bolster support when negotiations to leave the European Union begin June 19.
But instead of achieving a stronger hold, May's Conservative Party actually lost seats, leaving Parliament without a majority party. The country is now in uncharted waters as it enters Brexit talks. Read on to find out what happened, and what comes next.
Hung Parliament
With 649 out of 650 seats declared, no party has won the necessary 326 seats to have a majority in the House of Commons. The Conservative Party still has the highest number of seats, 318, but the body is now what is known as a "hung Parliament."
The final seat will continue to undergo recounts through Friday evening.
The biggest surprise of the day was the 31 seats that the opposition party, left-wing Labour, gained. The Scottish National Party lost 21 seats, dashing hopes of another Scottish independence referendum. The Liberal Democrats gained three seats, bringing their total to 12. The UK Independence Party failed to gain a single seat, remaining with no representation in Parliament and prompting UKIP leader Paul Nuttall to resign Friday morning.
"A new era must begin with a new leader" – UKIP's @paulnuttallukip stands down #GE2017 https://t.co/BZNkyAG3cX #bbcelection #hungparliament pic.twitter.com/PnekWR0zJk

— BBC Breaking News (@BBCBreaking) June 9, 2017
Prime Minster's Election Fumble
When May called the election back in April, she–and many others–assumed a Conservative victory was a done deal. Since then, a combination of poor campaigning, increased security concerns after three terror attacks, and rising popularity for Labour caused her plan to backfire.
May was criticized for refusing to engage in face-to-face debate with Labour Leader Jeremy Corbyn, for proposed policies that would force the elderly to pay more for care, and for taking police officers off the streets, which some said undermined the country's security during the Manchester Arena and London Bridge attacks.
The success of Corbyn's party has historically been dependent on high voter turnout, and this year was no different. Labour won seats in every district where turnout increased by more than five percent.
What's Next for May?
Even after the election results, May will remain Prime Minister. Though the monarchy has no role in politics, the Prime Minister must seek Queen Elizabeth II's approval before forming a government. May did this Friday morning before speaking at Downing Street, announcing her intentions to form a minority government with the socially conservative Democratic Unionist Party of Northern Ireland.
"Our two parties have enjoyed a strong relationship over many years, and this gives me the confidence to believe that we will be able to work together, in the interests of the whole United Kingdom," May said in her statement.
This will leave her with a tiny majority of 328 seats, but will not strengthen her negotiating hand, as she had hoped. The DUP favors a soft border with Ireland, contradicting May's stance on a "hard" Brexit.
Political analysts have already questioned the strength of May's proposed government.
"I question whether the new government can cobble together a majority for any version of Brexit–hard, soft, poached, scrambled, or deviled with Tabasco sauce–without losing the support of some Conservative MPs, and potentially losing a Commons vote," writes the BBC's Mark D'Arcy.
Going forward, a number of things could happen. Minority governments like these are not as secure, as the party with more seats is dependent on the voting support of the less powerful party.
If the government fails, or May receives a vote of no confidence from the majority of MPs, there could either be yet another general election, or Corbyn could take a shot at forming a government. Corbyn has already called for May to resign, saying people have "had quite enough of austerity politics."
"She wanted a mandate," Corbyn said. "The mandate she's got is lost Conservative seats, lost votes, lost support and lost confidence. I would have thought that is enough for her to go."
Election Successes
The hung parliament is not the only interesting development to come out of yesterday's vote. Voter turnout was unexpectedly high, especially among young people. The estimated turnout for voters ages 18-24 was 66 percent.
The election was also a major success for female politicians. More than 200 female MPs were elected, leaving this new parliament with the highest number of female seats in history. The country also elected its first female Sikh MP and the first turban-wearing Sikh MP, both Labour, according to the Telegraph.