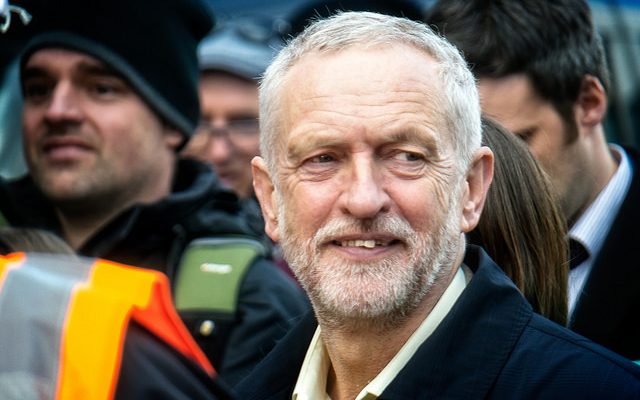 "Jeremy Corbyn" courtesy of Garry Knight: Licence (CC0 1.0)
Entertainment
Jeremy Corbyn to Introduce Run the Jewels at Glastonbury
By
|
After essentially defeating Theresa May's attempted Brexit referendum disguised as a special election, British Labour party leader Jeremy Corbyn has decided to bask in the glory of his newfound popularity by joining the demographic that most supported his movement–the youth. He chose a place in which you're most likely to find them in the summer: a music festival.
No, Corbyn won't be performing alongside headliners Radiohead, Foo Fighters, and Ed Sheeran. Instead, he will be introducing American rap group Run the Jewels (RTJ), known for their lyrics about social issues and left wing politics, onto the main stage. This was a welcome surprise to Killer Mike, the MC of RTJ, who seemed to find out about the announcement just this morning.
Having a Wow moment: https://t.co/lZYRhW3CGe 😳 🇬🇧 🙌🏾✊🏼✊🏾✊🏼✊🏿✊🏻😊

— Killer Mike (@KillerMike) June 16, 2017
During the American election season and Democratic primaries, Killer Mike put his support behind Bernie Sanders, who he considers a close friend and famously interviewed in a barbershop in Atlanta. The use of his platform for political advocacy has now gone beyond the borders of the United States. At London's Field Day festival earlier this month, the MC encouraged the crowd to vote Labour in support of Jeremy Corbyn.
This should come as no surprise to those who have followed Corbyn's campaigning closely. Before the election, he received support from UK grime MCs Stormzy, Novelist, and JME, was pictured on the cover of Kerrang! alongside British bands Creeper and Architects, and made an appearance on stage during Reverend and the Makers' set at Wirral Live music festival.
Corbyn was scheduled to appear at the festival last year, but the vote for Brexit unfortunately derailed that cameo. To commemorate his return, Michael Eavis, the 81-year-old founder of Glastonbury Festival, will be joining the leader of Labour on stage. Eavis is a strong supporter of Corbyn's stances on nuclear disarmament and anti-austerity, and is just a fan of the man in general.
"We're Corbyn fans, that's the thing," Eavis told the Guardian. "He's got something new and precious, and people are excited about it. He really is the hero of the hour."
Even though they will be the ones actually performing, Run the Jewels might have a tough time following the support the Labour leader will probably receive on stage, according to exit polls. NBC News' British partner, ITV News, estimated youth turnout was at 72 percent, well above the 43 percent that showed up to vote in 2015. Online polling site YouGov found that approximately 64 percent of those surveyed between 18-29 voted for Labour, as opposed to 36 percent in 2015.
Corbyn's campaign might have even inspired more young people to vote for the first time. Just before the deadline for voter registration in 2015, 137,400 signed up, while 246,487 did so this year. Many of those attending the festival will be looking forward to cheering on their candidate of choice after an election that was referred to by some as "the revenge of the young on the old."