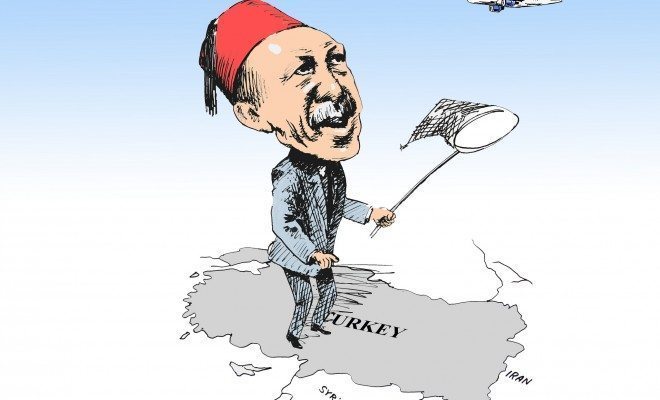 "erdogan 2012" courtesy of [valeriy osipov via Flickr]
World
Turkey's President vs. German Satirists: A Battle Over Free Speech
By
|
First, it was a song and video, satirizing him as a "big boss" whose neck swells at the sight of press freedom. Then: a poem read by a German comic on television that skewered him, making his blood boil, finally inciting him to respond. Turkey's President Recep Tayyip Erdogan is unhappy with the recent barbs aimed at him by public figures in Germany, and has embarked on a courtroom assault to punish those who have launched satirical attacks against him, stirring up important questions for Germany to mull over: Is it unlawful for a German citizen to offend a foreign leader? Can Germans be silenced from abroad?
The latest development in the notoriously thin-skinned Turkish leader's crusade against German critics came Tuesday when a court denied his injunction against Mathias Döpfner, the head of one of Germany's largest media outlets. Döpfner wrote a letter–championing "freedom of expression, art and satire"–in support of Jan Böhmermann, the comic who performed the scathing poem on German television in April.
Tuesday's ruling is a blow to Erdogan's silencing campaign. Ralf Höcker, the lawyer representing Erdogan in Germany, said his efforts to silence the "online lynch mob" are about "human dignity, namely to protect it." The Cologne state court backed Döpfner's right to free speech, calling it "a contribution to building public opinion in a controversial debate." A spokeswoman for Axel Springer, the media company Döpfner is chairman of, called the case "baseless."
Erdogan's legal case rests on an 1871 German law that prohibits the mocking or offending of a foreign leader. In summoning the obscure, forgotten law, he joins an esteemed club of heads of state whose critics have been silenced in the past: Shah Mohammed Reza Pahlavi of Iran and former dictator Augusto Pinochet of Chile.
The law was first brought back from obscurity in April, when Erdogan called on a German court to prosecute the comic, Böhmermann, on the basis of the 1871 law. Some Germans expressed ire at their own leader, Merkel, for her inaction in denouncing Erdogan's attempts to suppress free speech.
"We champion that our partners and allies guarantee freedom of opinion and the independence of justice to the same extent as they are in Europe and other countries of the democratic world," Merkel said in April, during a press conference in which she granted Turkey the go-ahead in its legal case against the satirist Böhmermann. The trial has yet to begin, as prosecutors are still investigating the case.
Erdogan's move to silence his German critics comes at a time of increased cooperation between his government and that of German Chancellor Angela Merkel, as the European Union tries to stem the flow of refugees uprooted from the Middle East. A favored route of the Syrians, Iraqis, and Afghanis seeking refuge in Europe goes through Anatolia, from Turkish ports to Greek ones, then into Eastern Europe and beyond. Many asylum seekers hope to eventually reach Germany, which has Europe's strongest economy and most lenient refugee stance.
The deal between Turkey and the European Union–with Merkel as its foremost representative–went into effect in March. As the enforcement of the agreement rests largely on Erdogan, he has used his newfound leverage as a tool to extend his penchant for silencing critics beyond his own borders and into Germany. How that leverage will manifest itself in the future is certainly worth keeping an eye on.
And while Germans wait for the outcome of Böhmermann's case, they will not stop satirizing Erdogan. Instead, they've found more creative outlets for their ribbing: Erdogan-Burgers, anyone?