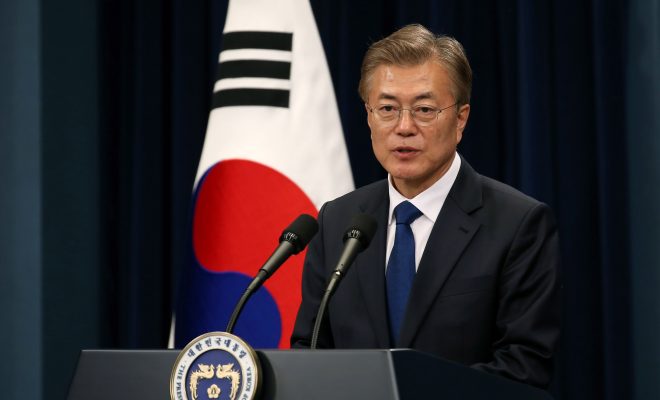 Image Courtesy of Republic of Korea; License: (CC BY-SA 2.0)
World
Trump and South Korean Leader Moon Jae-in Meet Despite Different North Korea Strategies
By
|
South Korean President Moon Jae-in is officially in D.C. to meet with President Donald Trump. Elected in May, following the impeachment of South Korea's former leader, Moon comes to Washington with a vision on how to deal with North Korea that is much different than the Trump Administration's.
Moon has scaled back maneuvers that could be seen as aggressive toward North Korea, while stressing the importance of dialogue with his country's northern neighbor. Trump, on the other hand, lacks a coherent Pyongyang strategy, and has flirted with both an armed response and a diplomatic one.
Before the two leaders met, Moon, who landed in the U.S. on Wednesday, sought to highlight the countries' common interests. To kick-off his first visit to the U.S. as president, Moon visited a Marine base in Quantico, Virginia, and laid a wreath to commemorate the Marines who died fighting in the Korean War. He used the occasion to underscore the U.S.-South Korea alliance.
"Together we will achieve the dismantlement of North Korea's nuclear program, peace on the Korean Peninsula and eventually peace in Northeast Asia," Moon said. Later, in a speech to the U.S. Chamber of Commerce, Moon highlighted South Korea's economic and trade ties with the U.S., and called for further cooperation. He said:
The U.S. market share in Korea's import market has increased and Korea has also seen an increase in its share of the U.S. important market. Expansion of bilateral trade is enriching the daily lives of our peoples…Both our countries have new governments in place; let us become best partners by creating new jobs in our countries. Let us move forward hand in hand toward a path of joint and common prosperity.
Despite the very real economic and military ties between Washington and Seoul, the presidents are bound to clash when it comes to North Korea. Moon is South Korea's first liberal president in decades; he supports increased dialogue and investment with Pyongyang rather than the more military-based, isolationist approach of his conservative predecessors.
Moon also recently delayed the deployment of additional missile defense batteries supplied by the U.S. He said the delay is intended to provide time for an environmental review. But some analysts see it as a move to placate China, which opposes the system, known as Thaad. Still, where Moon and Trump might bump heads most forcefully is on how to deal with North Korea in the immediate future.
The Trump Administration's most recent public comments on its North Korean strategy came on Wednesday, from National Security Adviser H.R. McMaster. The U.S. is preparing "all options," McMaster said on Wednesday, "because the president has made clear to us that he will not accept a nuclear power in North Korea and a threat that can target the United States."
Under Kim Jong-un's leadership, North Korea has increased its ballistic missile tests over the past few years. The launch frequency has increased since Trump took office, and Kim has stated his nuclear arsenal is nearing the capacity to strike the continental U.S. with a nuclear-tipped missile.
Though analysts say Pyongyang is months, if not years, away from acquiring such capabilities, the threat is growing by the day. In addition, thousands of U.S. soldiers are spread across South Korea, Japan, and Guam, all of which are currently within North Korea's range. A few months into his tenure, Trump seemed to have embraced the idea of using China to bully the North to curtail its nuclear ambitions. That tact has apparently failed. Last week, Trump tweeted:
While I greatly appreciate the efforts of President Xi & China to help with North Korea, it has not worked out. At least I know China tried!

— Donald J. Trump (@realDonaldTrump) June 20, 2017
On Thursday, the Trump Administration tightened the screws on China, imposing sanctions on a Chinese bank that deals with North Korea. On Wednesday, in a stark reminder of the threat North Korea poses, its state-run news agency issued a "death penalty" on former South Korean President Park Geun-hye and her former spy chief. Accusing the former president of attempting to assassinate Kim, the statement said, she might receive a "miserable dog's death any time, at any place and by whatever methods from this moment."