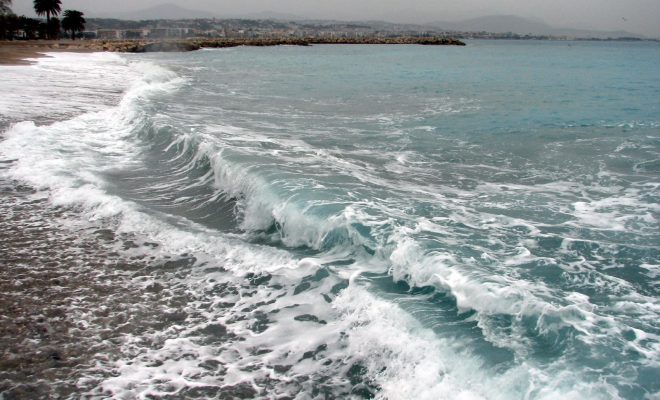 "Villeneuve Loubet" courtesy of [*pascal* via Flickr]
World
Court Overturns Burkini Ban in French Town
By
|
Amid uproar over France's enforcement of the burkini ban, the top court of France has overturned the ban in the town of Villeneuve-Loubet, the Associated Press reports. The decision, issued by the country's Council of State, is likely to set a precedent for overturning the ban in all other ordinances in which it currently is enforced.
This action comes a few days after photos were released that showed police forcing a woman lying on a beach in a burkini to remove some of her clothing, deeming her outfit not beach-appropriate. As a result, France has been facing heat for what many believe is simply another way of exerting control over women's bodies.
While the burkini seems to only be a slight variation on the wetsuit, it has its proponents in uproar over issues such as "hygiene" and "morality."
The #BurkiniBan – 'C'est ridicule!' © Amy Clancy (@AmyClancyUK) pic.twitter.com/yohgEJ6G2J

— Amy Clancy (@AmyClancyUK) August 24, 2016
Men: Stop telling women what to wear https://t.co/eHdQ7kPq4y #BurkiniBan pic.twitter.com/zG5l6wrbW5

— Ann Telnaes (@AnnTelnaes) August 25, 2016
However, it is likely that this city's overturned ban will be met with a lot of resistance in the country, where the ban has also received a lot of support in the name of secularism. Former French president (and current presidential candidate) Nicolas Sarkozy, for example, has called the burkini a "provocation" that supports radical Islam. Additionally, right-wing leader Marine Le Pen vowed that the battle would continue, and declared his support for a banning of headscarves in all public places.
The conservative mayor of the town of Villeneuve-Loubet, Lionnel Luca, isn't happy with the court's decision, believing that it "can only heighten passions and tensions, with the risk of trouble we wanted to avoid."
The burkini ban is a continuation of recent French policies to crack down on overt religious expression, policies which have seemed to unevenly target Muslims. In 2004, a French policy banning religious symbols in public schools prevented students from being able to wear items such as headscarves. In 2011, a policy to prevent face coverings in public made it forbidden for women to wear burqas without facing consequences. This most recent ban seems to be a continuation of this fixation on Muslim women's wardrobe and what it allegedly represents.
While male leaders in France continue to fight over women's clothing choices, the repercussions of the French court's decision will undoubtedly continue the discussions on secularism, religious freedom, and Islam within France and other European countries.