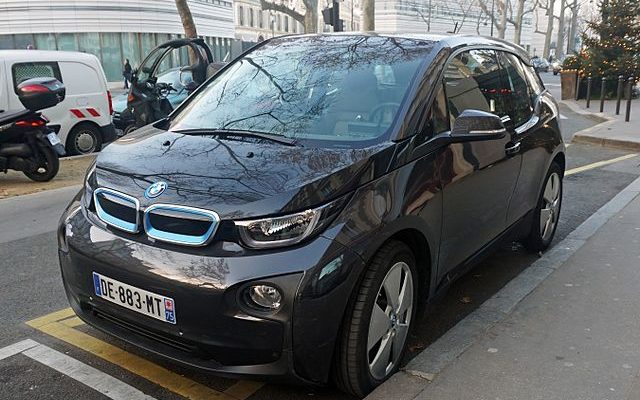 "BMW i3 Electric Car in Paris" Courtesy of Mario Roberto Durán Ortiz; License (CC BY-SA 4.0)
Energy and Environment
France Reveals Series of New Environmental Measures
By
|
France's new environment minister just announced the Macron Administration's first series of new environmental measures, which aim to make the country carbon-neutral by 2050. These measures were also created with the intention of maintaining the country's leadership in fulfilling the commitments created by the Paris Agreement.
One of the more ambitious portions of this plan was the announcement that France plans to ban all petrol and diesel vehicles by 2040. This would inevitably force the country's car owners to switch to electric and hybrid cars–which Volvo announced Wednesday it would start exclusively producing in 2019. Part of the plan includes providing lower income households with aid so they can swap their polluting vehicles for cleaner alternatives.
Ecology Minister Nicolas Hulot called the move a "veritable revolution" and "a way to fight against air pollution" as a question of public health policy. He added that while it might seem like a difficult objective for France's car manufacturers to accomplish, they have the resources and plans in place to do so successfully. Automotive experts have agreed with Hulot's statements.
"The timescale involved here is sufficiently long term to be taken seriously," said Professor David Bailey, an automotive industry expert at Aston University. "If enacted it would send a very clear signal to manufacturers and consumers of the direction of travel and may accelerate a transition to electric cars."
With these new measures, France has joined the Netherlands, Norway, Germany, and India as countries that plan on eliminating internal combustion engine-powered cars to some degree before 2030. It also coincides with a Bloomberg News Energy Finance report that predicts electric cars will make up 54 percent of all light-duty vehicles by 2040, up 19 percent from what was previously thought.
Other French environmental plans include eventually ending the importation of products that contribute to deforestation around the world–particularly in the Amazon rainforest, Congo, and South-East Asia–such as palm oil and unsustainably grown soya. Hulot stated that deforestation represents 10 percent of global greenhouse gas emissions, and added that it would be "schizophrenic" to encourage the continued production of these items. France has also pledged to reduce nuclear energy from 75 per cent to 50 per cent of the country's energy mix by 2025.