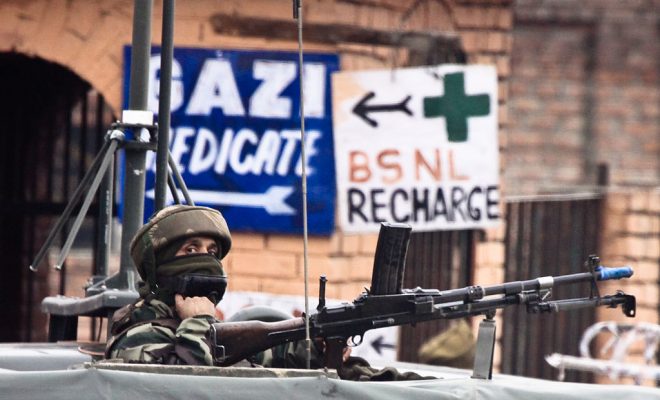 "Keeping Watch" Courtesy of Jrapczak : License (CC BY-SA 3.0)
World
Will Trump Mention India's Human Rights Abuses in His Meeting with Narendra Modi?
By
|
On March 3, the State Department released its Country Reports on Human Rights Practices for 2016, and its pointed critique of India's human rights record has raised some eyebrows. The report is particularly critical of India's history of state violence and the country's criminal justice system in general. While one might expect the State Department's findings to influence talks during Indian Prime Minister Narendra Modi's impending visit to Washington, the matter will likely be ignored.
Accusations of State Violence
"Instances of police and security force abuses, including extrajudicial killings, torture, and rape; corruption" are cited as the most significant examples of human rights violations in India. While an investigation by India's National Human Rights Commission (NHRC) revealed examples of arbitrary, unlawful, and extrajudicial killings throughout the country, the State Department report said, data from the Institute for Conflict Management suggests a concentration of killings in northern states, particularly along the Indian-Pakistani border.
While state violence is identified as a primary concern, injustices are believed to extend to almost every aspect of India's criminal justice system. Here are some examples:
According to the report, police and government officials have consistently denied claims of hundreds of unresolved disappearances, and have supposedly demanded bribes from people hoping to learn whether or not their family members are currently detained.
According to the National Law University in Delhi, 216 of the 270 death row inmates they interviewed had been tortured.
Investigations by NHRC revealed numerous cases in which police officers raped detainees and NGOs argued the government agency underestimated the figures.
Research indicates that activists and "economically vulnerable" people are at a much greater risk of being arbitrarily detained and subjected to cruelty. Torture is often used to force false confessions.
Judicial corruption is believe to be widespread and, according to the Supreme Court, 43 percent of the country's high court positions are vacant.
The report suggests India's Armed Forces Special Powers Act of 1958 (AFSPA) is a major contributing factor to state violence and arbitrary detention. Though there are multiple iterations, the act grants security forces special powers in areas the government has determined to be "disturbed." These "special powers" include, but are not limited to, the right to use deadly force against anyone who is in violation of the law, and to arrest anyone "who has committed a cognizable offence or against whom a reasonable suspicion exists that he has committed or is about to commit a cognizable offence" without a warrant.
Security forces also have the right to enter and search property without a warrant. While there are numerous Islamic and Maoist insurgent groups operating in the "disturbed areas," critics argue the decades-long enforcement of AFSPA has only escalated violence carried out by the government with impunity.
A White House Response?
In a press briefing on Friday about the upcoming visits of the leaders of Jordan and Egypt, a senior White House official said that human rights were "first and foremost in our discussions [with foreign leaders]," but that the Trump Administration plans on approaching "these types of sensitive issues in a private, more discreet way." This approach however, makes it difficult for the public to know whether matters of human rights are discussed with foreign leaders at all. If existing information is anything to go by, trade, not human rights, will be the topic of choice during Modi's visit.
By all accounts, President Donald Trump and Modi enjoy a warm relationship. Five days after his inauguration, Trump called the prime minister, expressed his support for Modi's economic reforms, and invited Modi to the White House. Trump called Modi again last Tuesday to congratulate him on his party's victories in state-level elections. After the call, the White House confirmed Modi would be visiting Washington sometime this year. No date has been set.
When Trump called Modi in January, "the two discussed opportunities to strengthen the partnership between the US and India in broad areas such as the economy and defense," according to the White House. While campaigning, Trump expressed support for Modi's plan for economic growth. In an interview with The Times of India, former Deputy Secretary of State William Burns suggested that a bilateral investment treaty would likely be a priority for both countries when Modi visits. It is safe to assume that the topic of trade will take precedence in any upcoming discussions between the U.S. and India.
Trump is unlikely to address the matter of human rights, even "in a private, more discreet" setting. After the two leaders spoke in January, a Trump spokesperson noted that they had agreed to "stand shoulder to shoulder in the global fight against terrorism." India has long used terrorism as the justification for AFSPA and state violence at large. In spite of the fact that the State Department identified state violence as one of the most flagrant examples of human rights violations in India, the "law and order president" is unlikely to condemn the hardline policies believed to be motivating the violence.
While the scathing human rights report carries Secretary of State Rex Tillerson's signature, the endorsement is only a formality. Trade will likely be at the forefront during Modi's visit and any future discussions between the two countries.