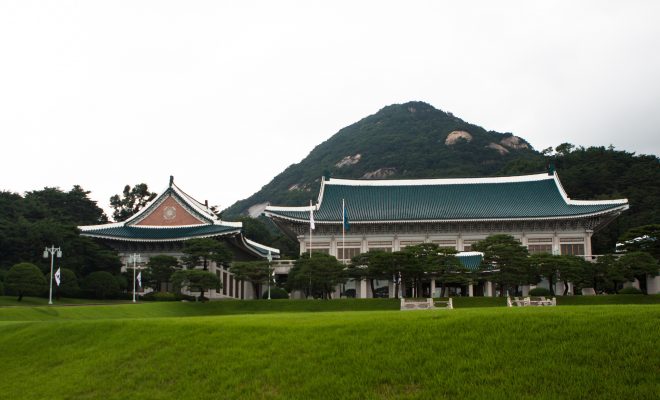 Image Courtesy of Jirka Matousek; License: (CC BY 2.0)
World
What Does the South Korean Election Mean for the U.S.?
By
|
With France's consequential election just around the corner–the final round is Sunday–it's easy to forget another key U.S. ally is set to choose its next leader in the coming days: South Korea.
Taking place just over a month after former President Park Geun-hye's impeachment, South Korea's presidential election could have wide-ranging effects on how the U.S.–and its Asian allies–deals with the threat posed by North Korea.
Early voting began on Thursday at 3,510 stations across the country; the official vote takes place next Tuesday, May 9. Moon Jae-in, a 64-year-old former human rights lawyer, is the current front-runner, polling far ahead of his opponents. A center-left member of the Democratic Party of Korea, Moon favors engagement with his northern neighbor and, eventually, reunification.
"The North and South were one people sharing one language and one culture for about 5,000 years," he told Time Magazine in a recent interview. "Ultimately, we should reunite."
The son of refugees from North Korea, Moon could add a layer of complication for U.S. policy in the region if elected. For one, he opposed the deployment of the Terminal High-Altitude Area Defense (THAAD) anti-ballistic missile system, which was recently deployed in a South Korean village. The system is meant to defend against missile launches from the North, but China, an important ally of the South and a vital patron of the North, strongly opposes THAAD.
As the U.S. aims to further isolate North Korea, the likely next leader of South Korea might choose the opposite path. The U.S. House of Representatives just passed a measure to squeeze Kim Jong-un's regime with tighter sanctions; the Senate is expected to pass the measure as well.
President Donald Trump has pressed China to do more to pressure North Korea to reign in its nuclear weapons program. Analysts predict the North is readying its sixth nuclear test in a decade, which could further increase tensions.
Moon, who narrowly lost to Park in the 2012 election, hews closer to the "sunshine policy" of former President Roh Moo-hyun, whose government he also worked for. That policy called for economic investment with North Korea, as a way to deepen ties between the North and South. Millions of dollars were poured into the North, and critics contend the policy bolstered the North Korean regime's nuclear program.
Ahn Cheol-soo is Moon's top competitor. His North Korea policy is at the other end of the spectrum and more in-line with the isolationist approach of the United States. Ahn, who supports the THAAD system, recently said, "If the North is about to launch a nuclear attach, we should first strike the source of attack."
Ahn and Trump share another similarity: both went to the Wharton business school at University of Pennsylvania.
Despite his softer stance on North Korea, Moon sounds prepared to cooperate with both the U.S. and China. At a campaign event in April, Moon said he will "create a government most feared by North Korea, most trusted by the United States and most reliable for China."
He also sounds confident that he and Trump will be able to reach common ground. "I believe we will be able to share more ideas, talk better and reach agreements without difficulty," he said.