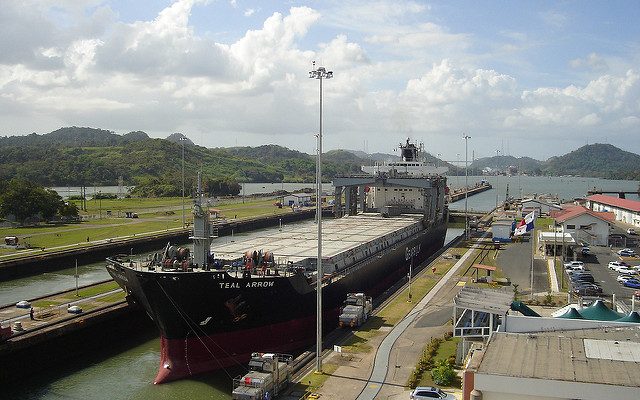 Image Courtesy of sergejf : Licence (CC BY-SA 2.0)
World
In Shift Away From Taiwan, Panama Established Key Relationship With China
By
|
Panama established official diplomatic ties with China last Tuesday, thereby renouncing its ties to Taiwan. This decision comes as a major political victory for China as it seeks to further isolate Taiwan and strengthen vital economic partnerships in Latin America.
A joint statement issued by representatives of both countries said that Panama recognizes "only one China" and that the "government of the People's Republic of China is the only legitimate government representing all China and Taiwan is an inalienable part of the Chinese territory."
And then there were 20: Taiwan's isolation solidifies
Panama's decision leaves Taiwan with just 20 international allies. Many are just small countries or islands in Latin America and the Pacific (its only European ally is Vatican City), yet every loss to China further secludes the island nation.
Both Beijing and Taipei require foreign countries to decide whether to forge diplomatic relationships with either the People's Republic of China (China) or the Republic of China (Taiwan)–never both.
In recent decades, as China's global economic influence has grown, many countries have found it more advantageous to build ties with China. The latest country to switch its allegiance in favor of China was São Tomé and Príncipe, which announced the move in December.
Taiwan severed its ties to Panama on Wednesday, one day after Panama's announcement. Taiwan's foreign ministry said it felt "anger and regret" over the "very unfriendly" diplomatic turn by Panama, which it deemed "yielded to economic interests by the Beijing authorities."
Beijing has increased its pressure on Taiwan after Tsai Ing-wen was elected president last year. Her liberal democratic party views have regularly heightened tensions with China. She did not endorse the "One China" policy, after she took office, a common practice between the two countries, which agree to endorse the policy but hold different interpretations of what it means.
Then in January, after Donald Trump's inauguration, Tsai called him to offer her congratulations. China took offense to the fact that the U.S. took the call and because it saw the potential for the two countries to get closer.
Tsai has tried to foster that possibility. She stopped in the U.S. in January, en route to Central America for diplomatic visits, and made a point to visit politicians such as Senators Ted Cruz (R-TX) and Marco Rubio (R-FL.).
Tsai, who visited Panama just last June, emphasized the years of friendship between the two countries in a speech she gave on Tuesday. She maintained that Taiwan would not engage in "a diplomatic bidding war" with China, despite the fact that China continues to "pressure Taiwan's international space."
"We are a sovereign country," Tsai said. "This sovereignty cannot be challenged nor traded."
An important play for Panama
China is currently the Panama canal's second biggest user and it's clear this new relationship will give China an economic advantage over the historically U.S.-controlled Panama canal.
China was funding a $50 billion alternative to the Panama Canal in Nicaragua. However, financial struggles and environmental critiques have halted construction before it even started. Though that project has largely fallen through, China can now comfortably rely on Panama's canal to circulate its goods.
The Panama Canal Authority also just announced it will be looking for contractors and customers to modify infrastructure surrounding the canal later this year, further providing China with strong potential business opportunities.
Asia-based political risk analyst Ross Feingold said that "enhanced communication channel between the Panamanian and Chinese governments following diplomatic recognition can only be a positive for Chinese logistics and infrastructure companies that operate in the canal zone."
However, China may not be the only party to benefit from this alliance. In the last few years, two of Panama's main economic drivers, the canal and its status as a fiscal sanctuary, have taken a hit.
In late 2013, President Xi Jinping announced the Maritime Silk Road plan, a development strategy aimed at integrating and coordinating trade between Eurasian countries. This plan completely excluded North and South America. In 2015, the Suez canal, perhaps the Panamanian canal's main competitor, underwent a renovation, which allows it to accommodate larger ships and ease congestion.
China's renewed interest in Panama through this diplomatic relationship can be seen as an indicator that Panama and its canal will not be cast away in favor of newer, more convenient options.
New Chinese direct investments are also an opportunity for Panama to revive its financial and fiscal image, which had taken a toll after last year's "Panama Papers" revelations.
At the time, many officials had complained that the shorthand used by international media outlets for the Mossack Fonseca case hurt the country's reputation.
"It's not about Panama, it's about one company. Nobody called it the Texas fraud when Enron [went] bankrupt," vice-minister of the economy Ivan Zarak said at the time. "It's unjust. You are holding accountable the whole country for the actions of one company,"
A renewed relationship with China could indeed help the nation re-boot. In a televised speech given last week, Panamanian President Juan Carlos Varela, who actually met with President Donald Trump earlier today, said he was "convinced that this is the correct path for [the] country."